Watch! Julia Roberts Singing Prince In 'Pretty Woman' Is EVERYTHING.
Pretty Woman - Vivian(Julia Roberts) sings "Kiss" in tub HD
01:06
Only his royal purple highness could make us all sing in the bath like this...
Prince was one of the most iconic stars in musical history, so it fills our heart with joy knowing that a bit of his music will always live on through one of our favourite film.
If you're a true pretty woman fan you'll know that one of the best scenes in the film is where Julia Roberts character, Vivian is sat in the bath tub belting out 'Kiss' by Prince, only to be rudely interrupted by Edward.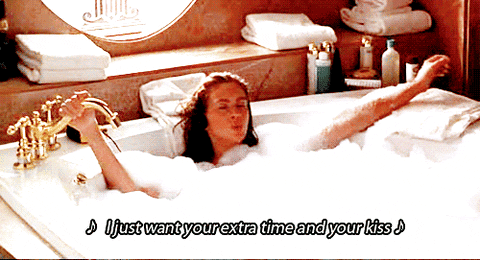 Let's admit it though, we've ALL been there.
Whether it's singing in the bath, shower or trying to hit those insane high notes while cleaning the house, Prince's hit's will always hold a special place in our hearts.
As Vivian says in the clip: "Don't you just love Prince."
Yes, we really do.