Disney's Jungle Book Portraits Are SAVAGE Beauty At Its Best!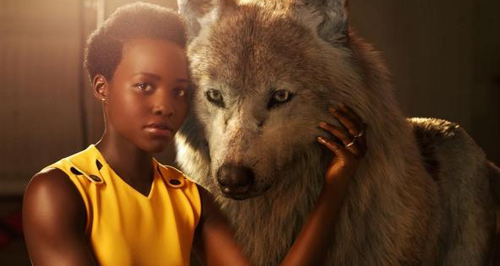 Walt Disney Studios have published six stunning portrait photos of the cast of their new live reboot and we can't wait to delve into the new all-action movie.
Featuring stars such as Idris Elba, 43, Lupita Nyong'o, 33 and Scarlett Johansson, 31 posing alongside their CGI animal friends this is an astonishing collection of photos.
In one hauntingly beautiful image, Lupita is pictured sitting beside a wolf while Scarlett is shown resting her hand on the head of a giant python and Idris Elba, 43, the voice of Shere Khan is seen posing alongside a Bengal tiger.
Read more: WATCH: Jungle Book live action movie, full trailer
Beguiling: Kaa is a massive python who uses her voice and hypnotic gaze to captivate Mowgli.
Intense: Lupita Nyong'o here with the mother wolf, Raksha, who nurtures all her cubs, including Mowgli the man-cub.
Strong: Idris Elba, is the voice of the Bengal Tiger, Shere Khan who rules the jungle with fear.
Wise: Ben Kingsley is the voice of Bagheera, a nurturing character who feels it's his duty to give moral guidance to the man-cub Mowgli and to educate and protect.
Formidable: Christopher Walken is the voice of intimidating 12-foot ape King Louie, who desperately wants the secret of Man's deadly "red flower"–fire. .
Fierce: Akela is the alpha-male wolf who shoulders the responsibility of his pack. He welcomes Mowgli to the family, but worries he may one day compromise their safety. "Akela is a fierce patriarch of the wolf pack," says Giancarlo Esposito, who voices the character.
We just know we're gonna love this movie. Out on general release at cinemas on 15th April 2016. #JungleBook