"That's How You Do A Spin Off": Viewers React To 'Kat And Alfie: Redwater'
19 May 2017, 11:25 | Updated: 19 May 2017, 11:59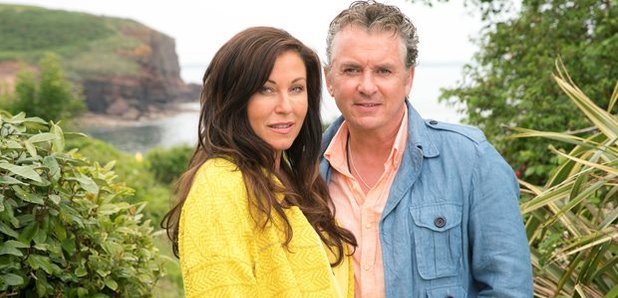 The 'EastEnders' spin-off started last night, and the reaction has been mixed.
Warning: Article contains spoilers for episode one of Redwater
So what did you think of Kat and Alfie: Redwater? The EastEnders spin-off started last night, and it was certainly intriguing. As lottery winners Kat and Alfie Moon arrived in the small Irish harbour village of Redwater to search for her long-lost son, it was clear that the residents have plenty of secrets. (We lost count of how many deep and meaningful stares were going on).
It was great to see Jessie Wallace and Shane Richie back on our screens. Not every soap couple could sustain a six-part drama series, but these characters have a long history and the actors still have great chemistry together.
We were quite thrown by Kat's softer, bohemian makeover. At first we missed the bright red lipstick and the leopard print, but now we think the long hair and flowing scarves kinda work. Alfie's pastels had even won us over by the end.
But it was Redwater's cliffhanger which really shocked us, as the man who viewers know is Kat's son – Dermott the priest (Oisin Stack) drowned fellow villager Lance Byrne (Ian McElhinney) in a very chilling scene. Will life ever get any easier for poor Kat?!
Shane Richie has described the series as Broadchurch meets The Wicker Man, but TV critic Sam Wollaston in The Guardian found this "a little harsh on Broadchurch and The Wicker Man." Ouch!
Wollaston continues: "Performance, lack of subtlety, a focus on the emotional, melodrama, cliches, even the pub – smells of soap. Nothing wrong with that, I always enjoy EastEnders when I get involved, but I'm not so keen on pretension." Oh dear.
Rachel Ward in The Telegraph said: "Sure, it's still a dated vision of an Irish community: Alfie was accepted by the locals by downing his Guinness, while Kat knocked back the whiskey chasers. Thankfully, there's enough substance in the murky plot to warrant further intrigue and the couple are much softer."
The reaction on Twitter was much more positive overall. Former EastEnders actress Anna Acton - who played doomed DC Emma Summerhayes - praised the show:
Well that was absolutely brilliant! That's how you do a spin off! #Redwater @dominictc @BBCOne

— Anna Acton (@acton_anna) May 18, 2017
Meanwhile, this MirrorTV critic gave the show a backhanded compliment:
Just watched the Kat and Alfie spin-off #Redwater. I'm pleased to say it's nothing like EastEnders.

— Ian Hyland (@HylandIan) May 18, 2017
Dan enjoyed it:
I'm liking #Redwater they've nestled two of #Eastenders best loved characters into a really strong cast and setting, it's quite dark.

— Dan Brown (@DanJBrownMUFC) May 18, 2017
Spandau Ballet star Tony Hadley was also impressed:
Loved watching my great friend @realshanerichie in #Redwater, a brilliant performance ! Tone xx

— Tony Hadley (@TheTonyHadley) May 19, 2017
EastEnders - which clashed with Emmerdale last night - attracted 4.2 million viewers, which is the same number who also watched Kat and Alfie: Redwater. Impressive stuff.
We'll be looking forward to next week's episode. Is Kat in danger from her long lost murderous priest of a son? Who keep leaving orange juice out for Dermott, and why does it upset him so much? And where on earth are Kat and Alfie's twins Bert and Ernie?!