Kate And Wills Broke Royal Protocol Whilst Receiving Their Blue Peter Badges
14 December 2017, 14:34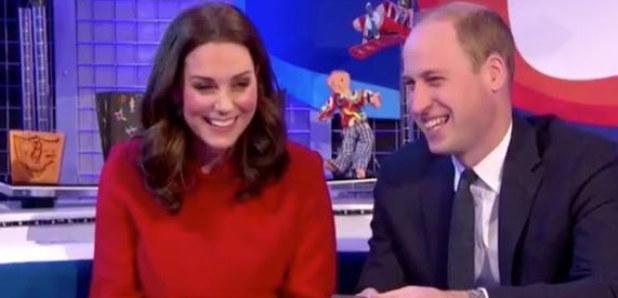 The royal couple were thrilled with the accolade.
Prince William and Duchess Kate were bestowed the biggest honour possible from popular TV programme Blue Peter.
The royal couple appeared on the show to accept the coveted GOLD Blue Peter badge, and both seemed overjoyed with the award.
It seemed that Kate may have been slightly too overjoyed, as she actually broke royal protocol by putting her hand on her husband's knee. Traditionally, members of the royal family refrain from any public displays of affection in order to maintain a 'professional' demeanour, and Wills and Kate have always stuck by this.
But perhaps seeing Prince Harry and Meghan's PDA's have made them think twice!
The gold badge was awarded to Wills and Kate due to their hard work raising awareness on mental health. On this subject, William said: We've got a long way to go, but we're getting there."
The two have attended events up and down the country, highlighting the importance of discussing mental health and trying to break down all stigmas attached.
Only a few select people have been awarded the gold Blue Peter badge, including the likes Sir David Attenborough, JK Rowling, Steven Spielberg, David Beckham, and Will's grandmother - aka the Queen.
There are various other Blue Peter badges that viewers can nominate themselves for, with the most popular being the 'blue' badge, which is awarded for "sending interesting letters, stories, makes, pictures, poems, good ideas for the programme, and for having appeared on Blue Peter."
Blue Peter first aired almost 60 years ago back in 1958, and has been a staple part of children's entertainment for many generations. The Christmas Special will air this evening, and will feature Will and Kate receiving their badges.