10 Moments That Prove Kate And Leo Are The Ultimate BFFs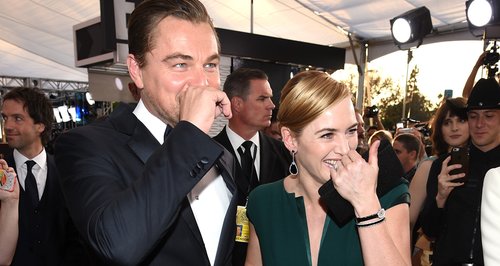 Whether they're cheering each other on at award ceremonies or laughing on the red carpet, Kate Winslet and Leonardo DiCaprio's love for each other knows no bounds. Here's definitive proof that they are #madeforeachother...
We love Leonardo DiCaprio and we love Kate Winslet, so put the two of them together and it's magic!
The duo have been best mates since starring together in 'Titanic', but it is their chemistry off-screen that has hearts racing and tongues wagging across Hollywood.
To celebrate their loved-up friendship, we've picked our top 10 favourite Kleo moments. Enjoy!
They've seen each other grow up
Kate was just 19 when she auditioned for 'Titanic', while Leo was a tender 23 during filming. It's safe to say the pair have seen each other grow up into hugely successful adults.
They had a connection from the beginning
Just listen to Leonardo talking about Kate in this interview from 2007…be prepared though, it all gets a bit cringe when he talks about that famous steamy car sex scene!
And they kept us guessing...
During a red carpet appearance in the late 1990s, Kate and Leo hinted that they were 'together' as opposed to just 'arriving together'. Of course, the rumour mill reached fever pitch and it has barely died down since.
He makes a beeline for her at award ceremonies…
Even when it's all about him, Leo somehow manages to find Kate and give her a big hug!
They give each other pet names
This little red carpet moment made us swoon, but Leo has also jokingly called Kate his 'homie'. Cute, right?
He dishes out good compliments
Get the two of them in a room together and the compliments will start to fly. This moment on the 'Today Show' in the US is our particular favourite.
She wants Leo to win an Oscar more than anyone
When asked if she would wish to win another Oscar or grant Leo his very first Oscar, guess what Kate chose? Yep, she picked Leo of course! Check out the cute moment in the video.
They indulge our obsession with the two of them together
We're guessing it must get really annoying being continually asked about your friendship with a fellow actor, but Kate and Leo take it in their stride. You can listen to Kate talking about the whole thing in this video with Jimmy Kimmel…
She LOVES HIM! SHE LOVES HIM!!
Kate declared her undying love for Leo in her acceptance speech at the 2009 Golden Globes and he responded by blowing a kiss in her direction. We don't know whether the room smiled or cringed at the rather intimate interaction. Check it out in the video.
HE LOVES HER TOO!!
Fortunately, Kate isn't alone in the love department. Leo returns all the love all the time…how can you NOT be obsessed with them?!
But they're not a couple?! Let's raise a glass to definitive proof that men and women can be just GREAT MATES!