Kate Wright Reveals The Next BIG Step In Her Relationship With Rio Ferdinand
13 September 2017, 08:02 | Updated: 12 July 2018, 13:59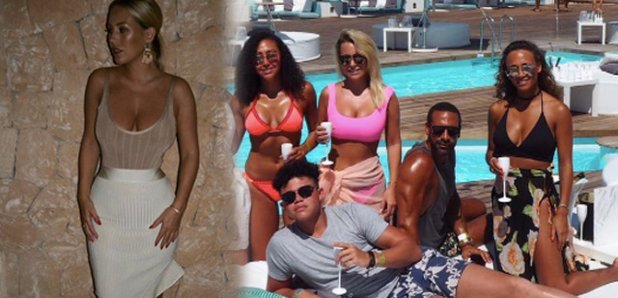 The former TOWIE star is set to take a step back from the limelight in order to concentrate on her life with the footballer.
Kate Wright's relationship with Rio Ferdinand has been going from strength to strength and it seems the former reality babe is serious about making her relationship with the sportsman her main priority.
Kate, who is famed for starring on the hit reality show 'The Only Way Is Essex', bowed out of the series earlier this year after speculation about her romance with Rio reached fever pitch.
Now, she has revealed plans to stay away from the spotlight in order to "concentrate on Rio and his family" and has even turned down top modelling jobs in a bid to live a discreet life.
Speaking for the first about her relationship with Rio, 38, the bikini model told The Mirror: "I'm taking a step back from the public eye, I want to keep my life private as I lived my previous relationship on Towie, my priority right now is Rio and the family."
The pair, who have been quietly dating since January this year, only made their romance public during a lunch date a few months ago and Kate is the first woman linked to Rio since his wife tragically died of breast cancer in 2015 at just 34-years-old.
Proving just how committed she is in becoming a full-time girlfriend to Rio and step-mum to his three children, Kate's representatives confirmed to the paper that she has parted ways with her showbiz agent and quit her role as the face of several brands.
The news comes after Rio confirmed their romance with a picture of them on a family holiday in August, which signals her strengthening relationship with his brood.
A friend told the Sun: "Kate left Towie because she wanted to be away from the limelight.
"But interest continued to be sky high and she struggled to visit the gym and go on holiday in peace.
"She hopes having no links with brands and no longer being on TV will help give her the quiet life she longs for with her new family."
We hope it all goes well for them both!