Kate Wright Shares Grief For Rio And His Kids In Emotional Mothers Day Post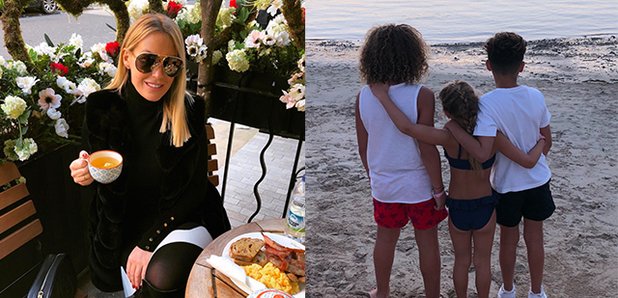 The TOWIE star shared an emotional post which struck a chord with many.
Since her relationship with footballer Rio Ferdinand started getting serious, ex-TOWIE star Kate Wright has shown that she is playing a big role in his kids lives.
She shared a picture over Christmas that showed the pair with the kids all in matching pyjamas on Christmas Eve and continually gives us glimpses into her life as a doting step-mum.
Rio's wife, and the mother of his kids, Rebecca sadly passed away in 2015 making Mother's Day understandably hard for their three children; Lorenz, Tate and Tia.
But Kate made tribute to her new family's late mother in a touching Instagram post...
She wrote: "Happy Mother's Day to my lovely mum I love you so much."
And then went on to pay tribute to Rio and the kids writing: "Although I am lucky to have my mum here with me today I can't help but feel so overwhelmed and full of emotions that both Rio and the children don't have their mums with them today. We are living in a house full of grief trying to get through and days like today just feel so tough. Celebrate your mother's and keep them close. "
She finished the sensitive message with a note about step-mums: "Happy Mother's Day to all the step mums out there it's a hard role that I don't think anyone often gets the credit they deserve for it. If you aren't being celebrated make sure u know u r doing an amazing job"
Many fans praised her kind words on her Instagram page with some saying how lucky Rio is to have her in his life - we think he would agree! The pair seem smitten.
Watch More Kate Wright Here!