Katie Piper Reveals How She Explains Her Scars To Her 3 Year Old
12 February 2018, 11:39 | Updated: 19 October 2018, 13:03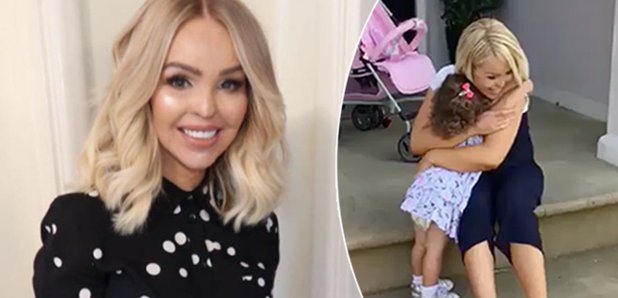 The brave mum of two was the victim of an acid attack ten years ago, and now lives with the scars from the horrendous crime. With her eldest daughter now reaching the age of asking questions, Katie reveals how she handles it.
Katie welcomed her second daughter Penelope into the world just before Christmas after tying the knot with partner Richard Sutton two years ago.
Along with Penelope they also share a three year old named Belle, who began to notice that her mum was regularly attending hospital appointments and wanted to know why.
Katie told Love Sunday magazine: "She mainly asks about my hands. I just tell her I was burnt when I was younger, it did hurt, but it doesn't now."
She then revealed her tot's reaction, saying: "All she really says is, 'Be careful of your other hand' when I'm near the oven. But if she asks how I was burnt, I'll tell her the truth."
Katie was left blind in one eye and suffered third degree burns when her ex Danny Lynch paid somebody to throw acid in her face as she walked down the street.
Since the horrendous crime, Katie has become a true inspiration to many people around the world, having spoken honestly and openly about her ordeal.
She set up her own charity, named The Katie Piper Foundation, which focuses on raising awareness of those who have suffered scarring and disfigurement injuries.
The star herself still lives with permanent scarring, despite having undergone over 300 surgeries.
Katie fell in love with carpenter and builder Richard Sutton, who she was set up with by a friend. After the brith of their eldest daughter, Richard popped the question and the two got hitched in November 2015. Katie has described her husband as "a gift from god" who has "changed her life for the better."
WATCH! First Glimpse Of Chicago Kardashian In Cute Home Video: