Katie Piper fears her burn injuries will affect Strictly Come Dancing routines
20 August 2018, 11:26 | Updated: 19 October 2018, 13:04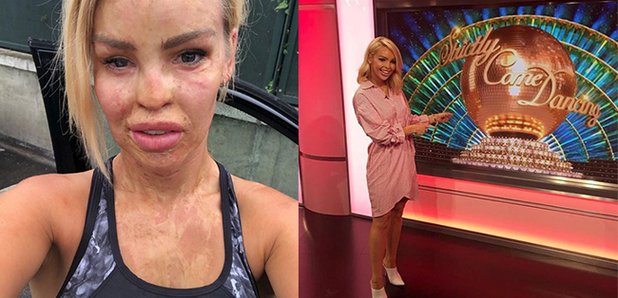 The Strictly come dancing contestant has admitted her injuries from the life changing attack may cause problems.
Kate Piper has admitted that she might find training for Strictly Come Dancing difficult because of complications from her injuries.
The 34-year-old TV presenter and philanthropist was the victim of an acid attack aged 24 and still experiences the affects of the life changing incident.
She told The Mirror: "The respiratory problem makes training a bit harder.
"I tried to practise some steps and can't really move my head back because of a band of scar tissue that starts at the top of my head.
"Everyone will be like, 'Why's she pulling that funny face?' and I'll be like, 'No, that's my face!'"
The attack, plotted by her ex-boyfriend, left her blind in one eye, scarred from the acid and left with many other complications.
She admitted: "It will be hard with my eyesight"
"If you cover one eye and think you can't see your peripheral, that is harder with dancing, steps and anticipating your partner.
"I'm like an elephant with no rhythm. When I was practising I was stamping on feet and banging into people. 'I'll just have to work really hard at the training."
Alongside Katie Piper a whole host of celebrity names have been revealed to take part in this year's Strictly Come Dancing including former Pussycat Doll Ashley Roberts, and TV doctor, Dr Ranj.