Kim Woodburn storms off Loose Women after HUGE row with Coleen Nolan
29 August 2018, 16:00 | Updated: 19 October 2018, 19:09
The former CBB rivals were meant to clear the air after 18-months of feuding - but the opposite happened.
Kim Woodburn stormed off today's Loose Women after ANOTHER epic showdown with CBB rival Coleen Nolan.
The How Clean Is Your House star was holed up with the Loose Women panelist in the January 2017 series of the show.
While they never properly clashed in the house, their relationship has festered ever since, with Kim describing Coleen as "fag ash lil" and questioning why she won the show over Irish singers Jedward.
Today, things soured even further between the pair.
Kim branded Coleen "hard as nails" and accused her of being "lying trash" before storming off the show live on air.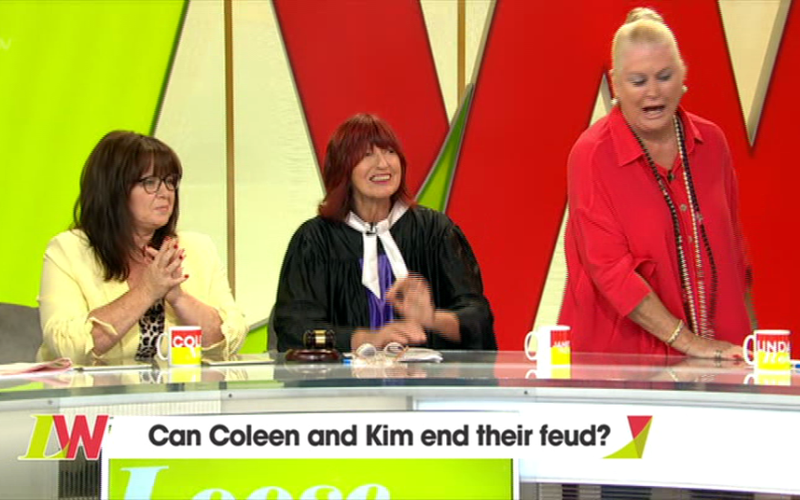 She previously described her as a "two-faced maggot", claiming that the bullying she experienced at her hands in the Channel 5 compound triggered devastating flashbacks of childhood abuse she had spent decades trying not to think about.
Viewers watched on in horror as the two women locked horns as Janet Street-Porter - wearing a judge's outfit - tried to keep the peace.
After growing increasingly agitated, Kim stormed off stage shouting: "I wouldn't want to sit and talk with lying trash. She's a horrible person. You are trash, you're a piece of filth!"
The row was triggered by Coleen muttering as Kim described her awful childhood.
Sobbing, she said: "I had a very very sad childhood, I had a brutal childhood."
As she opened up, Coleen whispered: "We got this every day as well. She's going to cry in a minute."
Undeterred, Kim continued: "A brutal rotten childhood. I can't describe what I went through.
"I went in that house and all the memories of those years came back with the bullying they were doing to me.
"I was very upset in that house but I pretended I wasn't. They picked on me."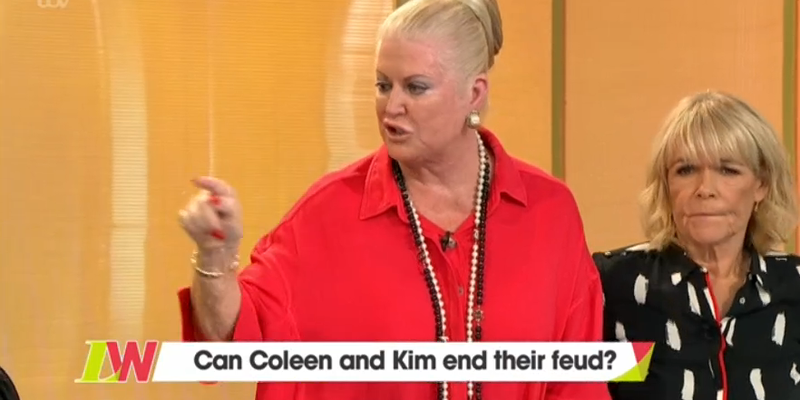 Coleen's sister Linda was also on the panel, and she leapt to her defence.
She said: "We know, we've heard it" - she then branded the blonde battle-axe "talentless", adding that The Nolans had earned £25m.
Kim then admitted that she had only appeared on the show as she had been offered a huge fee.
She said: "I didn't want to be here, I was paid a great deal of money."
The Sun online reports that Kim was left very upset by the altercation.
Her rep said: "Kim was invited on to Loose Women as she was told Coleen wanted to hold peace talks with her.
"When she arrived this morning, Kim was briefed and told Coleen would speak first and give her reasons for their row.
"She was told Coleen wanted to bury the hatchet.
"However when Kim walked on set, Coleen refused to speak first and made Kim do all the talking.
"This incident has left Kim incredibly upset and she feels disappointed with what happened."