Inspiring Celebs Who Just Can't Put A Foot Wrong!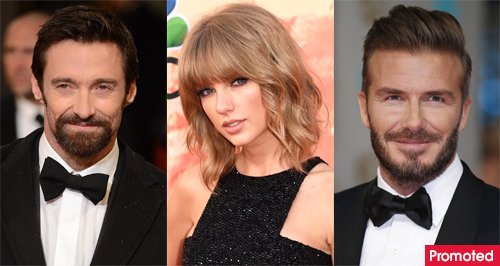 From all-round good guy Hugh Jackman to the incredibly generous Taylor Swift, here are 10 celebrities who have hearts of gold...

Some celebrities are kind, thoughtful and willing to sign autographs for hours...but others genuinely have hearts of gold!
We've partnered with DoubleTree by Hilton to prove that it's nice to be nice and pass kindness on to those around us, thats the #DoubleTreeEffect.
To celebrate good deeds and kind gestures, we've rounded-up our pick of the celebs who go the extra mile to make their fans happy...
Hugh Jackman
Known as the 'nicest man in Hollywood', Hugh Jackman is famously friendly, modest and willing to spend loads of time with excited fans! Check out this adorable video of the star surprising one of his young fans at a radio station...if you don't manage to crack a smile we'll eat our hats.
Ellen DeGeneres
The American chat show host is famously generous, especially when it comes to giving her studio audience surprise gifts, extra large cheques and meet-and-greets with her famous friends. She's also a big supporter of viral video stars and brings loads of acts from across the world to her studio to perform. Nice work Ellen!
Tom Hanks
What do we love about Tom Hanks? Where do we start?! He's one of those amazing celebs who knows what fans want and isn't afraid to give it to them...like singing the rap from 'Big' on Jonathan Ross, or playing games with James Corden on 'The Late Late Show'. He also starred in Carly Rae Jepsen's music video...sooo random but so fun!
Taylor Swift
Tay-Tay loves sending gifts to her fans...as in massive boxes full of swag that she mails to her uber loyal Swifties. Seriously! She was also named the most charitable celeb in 2015 because of her countless donations to charity. We already love her, but this just takes things up a notch...
Daniel Radcliffe
We watched him grow up as 'Harry Potter' and Dan Radcliffe has turned into an equally awesome adult! He's modest, funny and always willing to laugh at himself. Plus, he's a rather excellent rapper!
Jamie Foxx
Jamie Foxx ACTUALLY saved someone's life...no, seriously! The singer and actor pulled a man out of a burning vehicle, risking his own life in the process. I that's not impressive, we don't know what is!
David Beckham
The god, the man, the football legend is also charitable, kind and generally perfect (perhaps we're a little biased here?). When one of his biggest fans was diagnosed with a terminal illness he filmed a sweet video message for them. See the heartwarming moment above.
Will Smith
When a Hollywood actor just casually drops by a local school to hang out with kids...yep, that's going above and beyond the call of duty. Will Smith is great with his fans and he STILL sings the 'Fresh Prince of Bel Air' theme song because he knows everyone loves it.
Adele
She's knee deep in her world tour right now, but Adele still finds the energy to treat her fans at each and every show. in this amazing video, the woman herself brings up two fans who posted a video of themselves singing her tracks on YouTube. We promise, it will bring a lump to your throat...
JK Rowling
The 'Harry Potter' author gave more than £10 million to charity in 2015, proving that she's one of the most giving celebs on the planet (she was only beaten by Elton John). She's also active on Twitter and is consistently help us live out our Harry Potter fantasies by writing more stories on 'Pottermore'. Keep up the amazing work Jo!
Which celebrity wins your niceness top spot? Pass on the kindness and leave a comment below...