Korean Schoolgirl Wows Ellen With Adele 'Hello' Cover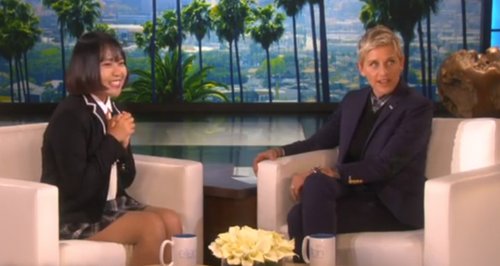 If you haven't seen Lydia Lee smash Adele's 'Hello', where have you been! She's so good American super-chat show host Ellen DeGeneres invited her to sing live on TV. Watch it here…
American chat show host Ellen DeGeneres is known for bringing viral internet sensations to live TV, which is why we weren't too surprised to see Korean schoolgirl Lydia Lee on her show.
The teenager posted a video of herself singing an AH-MAY-ZING cover of Adele's single 'Hello' and, of course, it immediately went viral.
Since posting her video Lydia has racked up a total of 16 million views. Not bad, eh?
Like everyone else, Ellen DeGeneres was obsessed and decided to invite Lydia and her mum to hop on a plane in Korea and join her in Los Angeles. What a lucky girl!
Check out Lydia's performance on the Ellen Show in the video below…
In case you want more, here's Lydia's original viral video…
Isn't she incredible! Knowing we'll never ever be able to sing like that makes us a teeny tiny bit sad…excuse us while we go and cry in a corner.