Ladbaby beats Ariana Grande and Ava Max to the Christmas number one spot
22 December 2018, 10:53
"We built this city on sau-sage roooolllllls!"
Now who says a love of sausage rolls won't pay off.
The year 2018 may be coming to a close, but not without one more surprise - a dad vlogger's ode to sausage rolls is the UK's Christmas number one!
Ladbaby - also known as internet sensation Mark Hoyle - has turned the music world on it's head, beating heavyweights Ariana Grande and Ava Max to the festive top spot.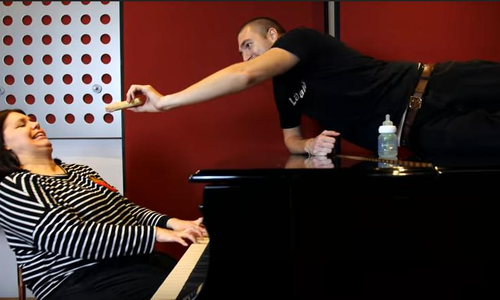 The UK blogger reworked the 1980's Starship classic to express his love of the soft filled pastry treat, renaming the hit 'We Built This City...On Sausage Rolls' (Yes, sausage rolls instead of Rock 'n' Roll. Genius!).
Gary Barlow, eat your songwriting heart out.
The festive chart topper isn't just a catchy radio anthem. Having sold over 75,000 copies, the proceeds of the song will be going to a food bank network called The Trussell Trust.
"Thank you everybody in the UK who has got a sausage roll to the top," said the 31-year-old Hertfordshire native yesterday.
"I don't think anyone really gave us a chance at the start of the week," LadBaby told BBC entertainment correspondent Lizo Mzimba on Friday.
"The public support has been absolutely unbelievable. It's mind-blowing, it really is - it's amazing."
Hoyle rose to internet stardom with his hilarious video pranks on his wife Roxanne and two kids Phoenix Forest and Kobe Notts on Youtube.
Just a few months ago Mark was even crowned Celebrity Dad of the Year, thanks to his documented 'lad to dad' journey, beating the likes of Prince William and Liam Payne to the top spot.
And despite all the success, Hoyle still wants to share sausage roll and maybe a duet with the song's original creators - Starship.
He added, "If they want to share a sausage roll and do a duet, let's make it happen."