Lady Gaga Hit Back At Body Shamers In An Inspirational Way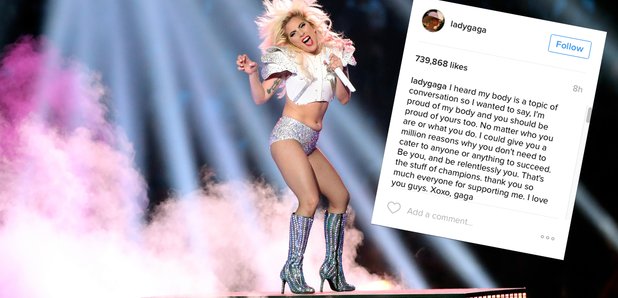 Lady Gaga took to Instagram to confront some body shaming people.
Despite how amazing Lady Gaga's Super Bowl performance was, as always there was a small minority of critics.
Some internet trolls took to Twitter to criticise the 30-year-old singers stomach and some even claimed she "wasn't fit enough" for the performance due to moments where she appeared out of breath.
Now lets all bear in mind that she sung a 13-minute set which included 3 costume changes and a dive from the rooftop of a stadium - surely she deserves to catch her breath?
But as always, some cruel internet users jumped to blast the stars phenomenal performance however, as always, Lady Gaga gave an unashamed and powerful response to her critics.
In a passionate outpouring on Instagram Lady Gaga addressed the fact that her "body is a topic of conversation" and went on to describe how proud she is of her body.
She also had lots of support from her fans who she calls 'Little Monsters' which praised her body confidence approach to the online trolls.
If anyone could give us a confidence boost it's Gaga!