Lady Gaga Gets Tearful For Her Bowie Tribute Performance At The Grammys
Watch The Lady Gaga + Intel Performance | 58th GRAMMYs
06:54
Watch Lady Gaga's EPIC tribute to David Bowie right here!
It's no secret that Lady Gaga took the news about pop-legend David Bowie's death badly. And it wasn't long before the 'Telephone' singer announced that her Grammy performance would be dedicated to him.
Bowie died unexpectedly earlier this year aged 69, just two days before he released his album, Blackstar.
Gaga opened the performance dressed as Ziggy Stardust, complete with newly-dyed red hair, singing Space Oddity, and then broke into Changes, Ziggy Stardust, Suffragette City, Rebel Rebel, Fashion, Fame, Let's Dance and Heroes.
Lady Gaga was joined by Nile Rogers. Picture | Getty
She received a standing ovation from the crowd at the end as she embraced Chic's Nile Rodgers, one of Bowie's producers who joined her for the performance.
Before the show, Gaga posted a tearful Instagram video showing her getting her Ziggy Stardust makeup done ready for her performance.
Earlier this week, the singer shared a photo with her Snapchat fans as she got a tattoo on her ribcage of David Bowie's face, saying that it was the "image that changed her life".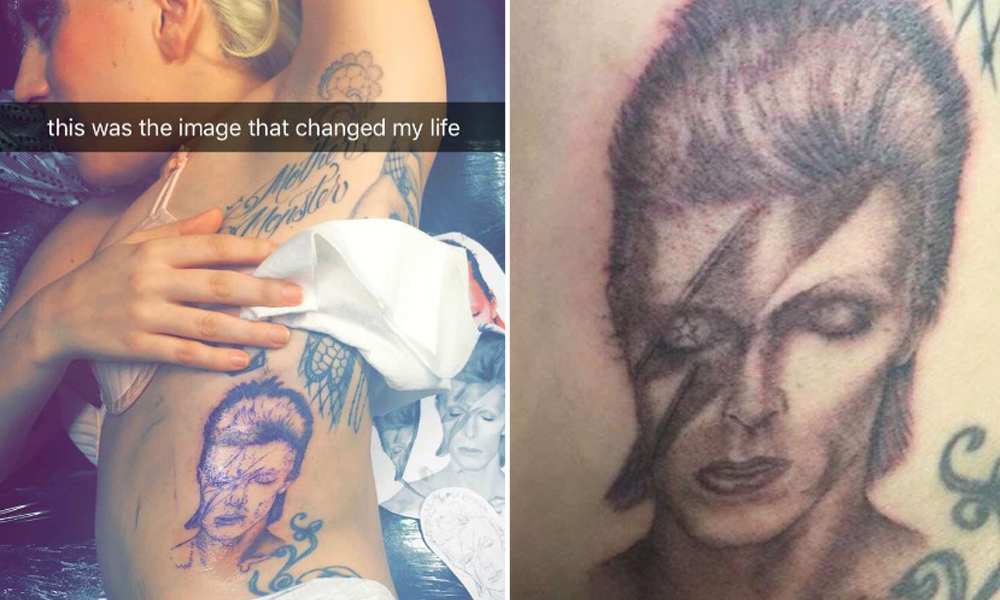 Lady Gaga's new tattoo. Picture | Lady Gaga/Snapchat
Eagles musician Glenn Frey, who died last month, was honoured with a special tribute by his bandmates and friend Jackson Browne, who performed Take It Easy at the show.