Lee Evans Takes His Final (Hilarious) Bow!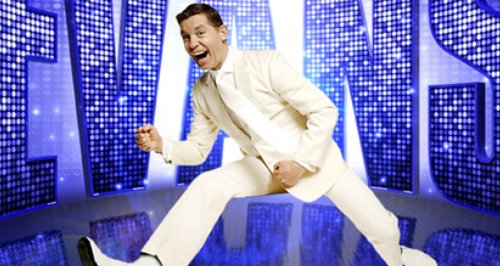 "This is it. Finished...it's the end." As the comedian announces he'll be hanging up his comedy coat at the end of his current tour on 'The Jonathan Ross Show', we take a look at some of the slapstick entertainer's funniest moments, from movie roles to stand up.
The energetic (and often rather sweaty!) funny man is best known for his hilarious stand up routines.
The clip below where the 50-year-old discusses the pain and frustration that trying to remember our passwords causes all of us, is brilliant example of his quick witted and observant humour.
Lee struggles to hide the fear in his face when his wife tells him she's updated all their security details. "I've changed all our passwords" she reassures him. "You won't forget this one, it's our wedding anniversary."
Watch the routine here:
It would be such a waste of those brilliant comedy skills if Lee only stuck to stand up however, which is why we had to share some of his greatest and funniest film roles.
The Bristolian character actor is also well known for his movies, including 'There's Something About Mary' where he starred alongside Hollywood golden girl Cameron Diaz, 'The Ladies Man' and of course, family favourite 'Mousehunt'.
'Mousehunt' is one of those rare iconic films that is beloved by both children and adults alike. Mr Evans plays Lars Smuntz, who joins his brother Ernie Smuntz, played by Jason Lane, in their struggle to rid their house of a particular rodent infestation.
Check out one of our favourite scenes, where the brothers manage to finally capture the mouse once and for all:
The witty and irreverent star can't even resist taking the mickey at his own graduation ceremony, where his wide range of skills including his work as a "musician, author and comedian" as well as his "extended persona" are praised, whilst he mimes behind the speaker.
Watch Lee Evans' citation and speech from University of East London's Graduation ceremony in 2010:
The famous funny man admitted another reason for his departure from the comedy scene, aside from wanting to spend more time with his family, is the death of his manager Addison Creswell, who sadly passed away last year.
We'll leave you with some of Lee's favourite one liners:
"I tried water polo and my horse drowned…that was a nightmare."

"I like it when the waiter asks you if you want parmesan cheese on your dinner, yeah, give me essence of puke all over me tea!"

"I love restaurants, but they always boast about home made cooking…I don't want home made cooking, that's why I'm here! Because I don't like the s**t at home! Yeah…you know! And they don't say who's home it is, do they? Could be a mental home, couldn't it!"
The entertainer will be sorely missed... after all, we love you too Lee!
You might also like Robin Williams' Best Film Moments