Lenny Henry Makes EPIC MOBO Awards Acceptance Speech.
Lenny Henry | Paving the Way Award acceptance speech | 2015 MOBO Awards
03:17
The legendary British comedian brought the house down when he gave a passionate speech thanking everyone from Michael Jackson to "the guy in the Halifax advert" as he accepted the 'Paving The Way Forward' award at the ceremony in Leeds.
Lenny Henry made sure not to miss out a single name when he took to the stage at the MOBO's on Wednesday. The comedic actor had the audience on their feet during his speech in which he said he "could only have got here from standing on the shoulders of giants".
The 57-year-old went on to name-check just about every famous face including Bob Marley, before admitting he was surprised to see 'Great British Bake-Off' star Nadya Hussain present his award with Vas Blackwood, as "watched her every week".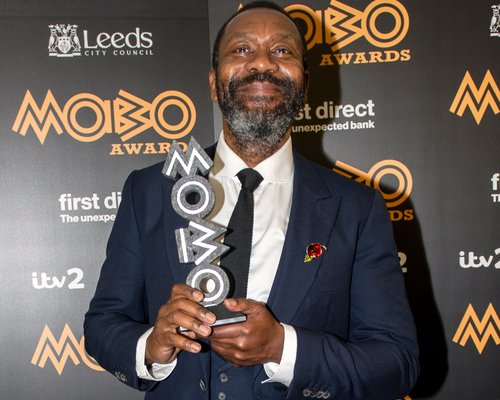 Lenny Henry's career has spanned over forty years. (Picture: PA)
Lenny had been honoured with the 'Paving The Way Forward' award for his contribution to entertainment throughout a career spanning over four decades, but he claims he has no intention of hanging up his mic anytime soon.
"It's an honour to say you've paved the way for people because my career isn't over. I don't feel like anything's finished yet," he mused.
"It's a huge honour. I'm very, very happy. It's wonderful."
It seems the viewers enjoyed his speech just as much as we did, as a number of fans took to Twitter to praise the comedian.
My hat will remain off for a few minutes for this guy, Sir Lenny Henry. I don't know even have to say… https://t.co/A3SRqLv2mY

— Stripes De' Gaffer (@OfficialGaffer) November 5, 2015
Don't know how Lenny Henry was saying all those names i would of had to drink a cup of water

— MK World (@elz_ay) November 5, 2015
Massive respect to @LennyHenry - You are giant whose shoulders we all stand on sir #moboawards2015

— GlynAikins (@GlynAikins) November 5, 2015
Did YOU get a shout out from Lenny Henry? Nope, neither did we... after that long list it's safe to say we feel a little left out!