Leonardo Is That You? Oscar-Winning Doppleganger Spotted At The Olympics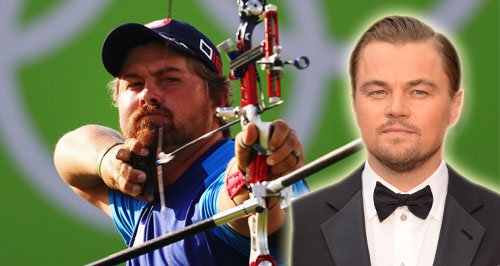 Brace yourselves ladies!
If you haven't watched the Olympics yet, you might want to tune in from now on as there is a hunky archer who bears a strikingly similar resemblance to Leonardo DiCaprio, and fans are FREAKING OUT.
When Leonardo DiCaprio low key wins silver at the Olympics. pic.twitter.com/CJ7PlDADxy

— Sterling Archer (@AlexSanchoOo) August 8, 2016
Brady Ellison, 27, had viewers looking twice as he stepped up and took aim on behalf of the U.S. Archery team at the Olympics in Rio due to his uncanny likeness to the Oscar winning actor.
Brady Ellison needs to look at the camera and say "No more bath, Gilbert." just so we can determine he's really not Leonardo DiCaprio

— David (@heffcomedy) August 7, 2016
Of course it wasn't long before eagle-eyed viewers took to Twitter to share their confusion, when the apparent Leonardo DiCaprio doppleganger took home a silver medal.
Funnily, the fans weren't the only once to notice the resemblance as the U.S. Olympics team noticed too!
We mean...we see it.

"Leonardo DiCaprio's twin is an #Olympic archer, apparently"https://t.co/Rc13zPS1Su pic.twitter.com/TGcIqVIHtO

— U.S. Olympic Team (@TeamUSA) August 7, 2016