Are Lewis Hamilton and Rita Ora LITERALLY Making Sweet Music Together?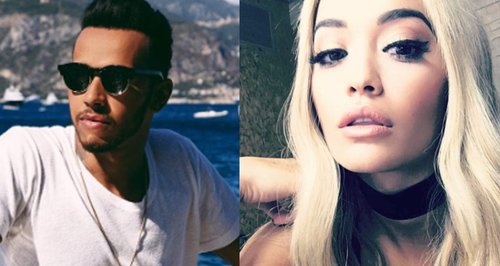 Following the endless speculation over whether F1 supremo Lewis Hamilton and music diva, Rita Ora are an 'item' we MAY just be about to clear up that rumour.
Tongues have been wagging since they were were reportedly "inseparable" as they cosied up at a British Grand Prix, but is there another reason they may be spending so much time together!
We've been doing a bit of Instagram snooping and uncovered a massive concidence (or not). It just so happens that they're both in the studio recording music.
Rita took to Instagram to share a photo of herself leaning over a studio mixing desk.
Well we have a couple of things we'd like to say about that... Hamilton a recording artist! who knew? And are they at it, ahem, laying down some tracks TOGETHER or on separate projects? It's not clear whether they're at the very same studio but here's more proof that they have more in common than we thought!
Meanwhile, on Sunday, the Formula One supremo shared an instagram pic of himself wearing headphones in front of the mic. A brilliant coincidence! or a music collaboration, well we don't know so we can't say and neither of them mentioned the other in their posts but stranger things have happened and Lewis has always been vocal about his love of music.