Lisa Riley engaged! Loose Women star overjoyed after her secret boyfriend proposes
21 May 2018, 16:29 | Updated: 12 November 2018, 17:50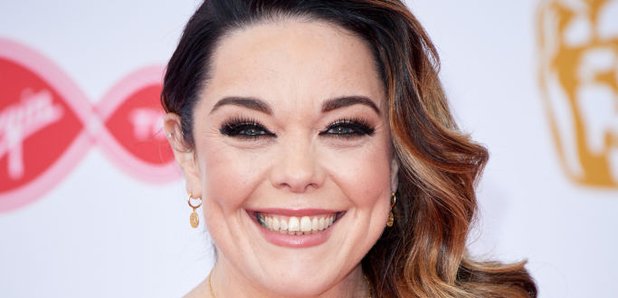 It seems like the Royal Wedding has gotten everyone thinking of saying 'I Do'... including ex Emmerdale actress Lisa.
The 41-year-old posted a beaming selfie to Instagram to share her good news - and show off her sparkler.
She wrote: "Yes I can now confirm the rumours are true, I have got engaged [to] my soul mate and best mate and love of my life.
"Al is the best thing to have ever happened to me.
"We have absolutely NO date set for ANY wedding day, just happy together. Zero fuss,just firmed our togetherness, and got sick of having to keep switching fingers with my ring. SERIOUSLY OVER THE MOON!!! Thanks for your messages."
Little is known about Al, who Lisa met four years ago through friends.
She has described him as "very talented and very, very lovely", and has revealed that he is a musician.
Fans were delighted for Lisa, and quickly leapt to comment under her gorgeous picture.
One wrote: "Congratulations Lisa! Such lovely lovely news. You deserve all the love and happiness. So thrilled for you."
The proposal is sure to be a highlight of what has otherwise been an emotionally tough year for Lisa.
Earlier this year Lisa revealed that she was hoping to start a family with Al after she lost a whopping 12 STONE through diet and exercise, but that IVF doctors had told them it was "unlikely" they would ever have a child.
She said slimming down from a size 30 to a 12 had gotten her thinking about becoming a mum - which is now sadly no longer on the cards.
Speaking to the Mail On Sunday's You Magazine, she said: "When I went in to have surgery to remove the loose flesh after I lost all my weight, the first thing that came into my head when I saw my surgeon was, 'Can I still have kids after all the surgery?'
"I was worried that because my skin had been cut it would no longer stretch.
"I want to have IVF but I'm not going to put myself through a lot of stress if it doesn't work.
"There are a lot of reasons why I want to have a baby: some to do with the fact I've saved myself by losing weight, but also that I'm in love for the first time in my life and he would like to have a baby if we can.
"I don't just think about myself any more. If we were to have a child, that would be wonderful."