Lorraine Kelly And Lee Ryan Get Into An Eastenders Style Fight LIVE On Air!
19 May 2017, 11:05 | Updated: 19 May 2017, 11:14
Lorraine Kelly and Lee Ryan had a war of words on air when he was a guest on her show this week!
Lee Ryan has exploded onto our screens as new Eastenders bad boy, Woody Woodward.
To chat about his new onscreen role, he joined Lorraine Kelly on her show - but it took a very East London turn very quickly!
As Lorraine ordered Lee to put the kettle on he switched into character giving her a taste of Woody's attitude before they erupted into a war of words live on air!
After she asked him to put the kettle on his response was "I ain't making the tea" to which she cheekily piped back in a cockney accent "well I ain't making the tea".
Lee responded again shrugging "I told you I ain't making the tea, don't tell me what to do" provoking Lorraine to shout "get out of my studio" before the famous Eastenders duff duffs played!
It was definitely clear that this was all a joke and Lee did end up staying in the studio for a more friendly interview with Lorraine later on in the show.
But it makes us think we wouldn't want to be involved in a run in with Woody at the Old Vic if we were a Walford resident!
However it looks like we'll see Woody in conflict sooner than we might expect with some photos of upcoming episodes revealing a punch up between him and Danny Dyer's character, Mick Carter...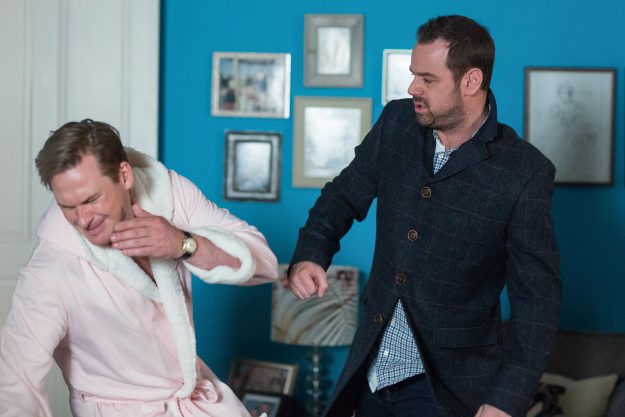 The head of the Carter family has been away from Walford but on his return is less than pleased to find Woody in bed with his daughter-in-law Whitney!
Returning to the Queen Vic after some time away he's stunned to discover what's going on and doesn't realise that his wife Linda has hired Woody as acting bar manager while they were gone.
Looks like there are some dramatic Eastenders episodes ahead of us!