Louis Tomlinson Wraps Protective Arm Around Sister As They Head To Family Event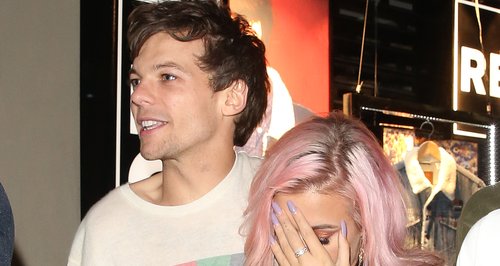 The singer and his make-up artist sister headed to an event to celebrate the life of their late mother Johannah Deakin.
Louis Tomlinson's mother Johannah Deakin passed away this week at the age of 42, following a battle with Leukemia.
The mother of the ex-One Direction star passed away on Wednesday night, leaving the singer and his family heartbroken.
After his X Factor debut solo performance at the weekend the star was spotted heading to exclusive London club, Cirque Le Soir for an evening to celebrate his mother's life and his performance alongside family and friends.
The evening was organised and paid for Johannah's husband Dan Deakin and was attended by people close to the family.
Louis was spotted with a protective arm wrapped around sister Lottie as they entered the club, and Louis ex-bandmates Niall Horan and Liam Payne were also pictured arriving.
Louis' Tomlinson received praise from fans and judges for his X Factor performance including an incredibly impressed Simon Cowell.
Louis certainly wouldn't have been blamed for skipping the performance due to the tragic circumstances but according to reports by The Sun's showbiz editor Dan Wooton, it was Johanna's wish to see him on stage again.
Despite being gravely ill she wanted him to continue with his performance during the X Factor live final at Wembley Stadium.
Tonight Louis made his solo debut on the X Factor on Saturday evening with his new single, 'Just Hold On' alongside DJ Steve Aoki.
He did so in her honour and received an incredible standing ovation from the live audience as well as admiration and respect from many fans across social media.
Simon Cowell delivered a touching tribute to the star's late mother after his performance in which he said "I have known you now for six years. What you've just done and the bravery.
I respect you as an artist and I respect you as a person.
Your mum was so proud of you Louis. She was looking forward to tonight. She's watching down on you now and you've done her proud."
A statement released today by her family reads: "It is with immeasurable sadness that Johanna Deakin's family said goodbye to Johanna in the early hours of Wednesday 7th December 2016.
"Earlier this year Johannah was diagnosed with a very aggressive form of leukaemia that required immediate and continuous treatment.
"We respectfully request that the family are given time and space to grieve in private."
The devastating news comes just a week shy of Johannah's 43rd birthday next Friday.
As well as Louis she leaves behind six other children, Lottie, 18, Felicity, 16, twins Daisy and Phoebe, both 12, and twins Ernest and Doris, both aged two.
Johanna also became a grandmother when Louis welcomed his first child with Briana Jungwirth in January this year.
Louis' last Instagram post seems is now more poignant than ever, as he took to the photo-sharing website to post a snap with his mother ahead of the Brit Awards, and said he "missed her so much".
Louis' step-dad, Dan released a heartbreaking statement today in which he praised her as "an amazing mother, and "incredibly selfless".
"Johannah was first and foremost a truly amazing mother to seven children – Louis (24), Lottie (18), Félicité (16), and two sets of twins, Phoebe and Daisy (12) and Ernest and Doris (2) – whose individual talents and success are testament to the principles and beliefs she instilled in them. She was also an incredibly proud grandmother to Freddie.
"Incredibly selfless, she would always look to put other people before herself. She desired nothing more than for everyone around her to be happy and loving. She worked tirelessly on numerous charity campaigns, creating memories for many individuals and their families.
It wasn't uncommon for Johanna to hear through the media of an individual in need of assistance, and she would immediately make it her objective to get that person what they often desperately needed, and rarely without success."
The statement, printed by The Sun, continued: "These are the things that made Johannah happy and content in life, and all of which for me made her simply the perfect wife and best friend to face each day with. I thoroughly loved walking through life with her, and though five years was far too short a time, during that time we had so many lifetimes worth of happiness, adventures, and memories.
"We would like to send our sincere thanks to Professor Steve Mackinnon and his team at University College London Hospital where Johannah was hospitalised since May. And during the last few weeks Professor John Snowden and his colleagues at Royal Hallamshire Hospital Sheffield."
Our thoughts are with you Louis!