WATCH: Maisie Williams And Sophie Turner Prank GOT Fans In Latest Carpool Karaoke
17 August 2017, 10:13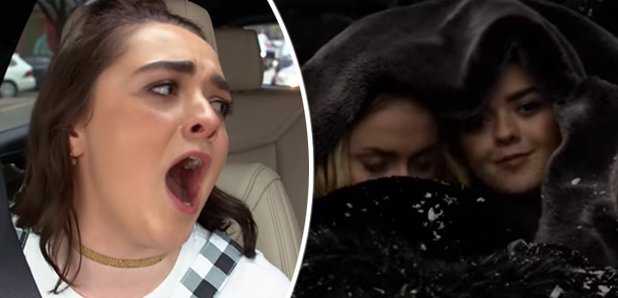 Game of Thrones fans were left in a state of shock after two of the show's biggest stars surprised them in a prank on the latest episode of Carpool Karaoke.
Maisie Williams and Sophie Turner who play Stark sisters, Arya and Sansa, have kind of grown up together. They began filming series one of Game of Thrones when Maisie was 14 and Sophie was 15 and they've formed a pretty close friendship.
So what better pair than these two to pull the ultimate prank on GOT fans for a feature in Carpool Karaoke.
In true Carpool Karaoke style, the onscreen sisters can be seen belting out the lyrics to Bieber's 'Sorry' and Miley Cyrus' 'Wrecking Ball'.
But things take a turn for the funnier when Sophie praises the show's fans for being "the most loyal fans" and decides that they should be rewarded for their dedication... with a prank!
The besties pulled over at one of Sky Atlantic and HBO's pop-up attractions to hide amongst the cloaks and props and well... the rest is history!
Maisie Williams and Sophie Turner's Carpool Karaoke special will also be available next Tuesday exclusively on Apple Music, whereas Game of Thrones continues on Sunday August 20th on HBO in the US, simulcast in the early hours of Monday morning August 21st on Sky Atlantic in the UK.