WATCH: Mariah Carey Sings Always Be My Baby With Her Daughter On Stage
3 August 2017, 15:28 | Updated: 3 August 2017, 16:06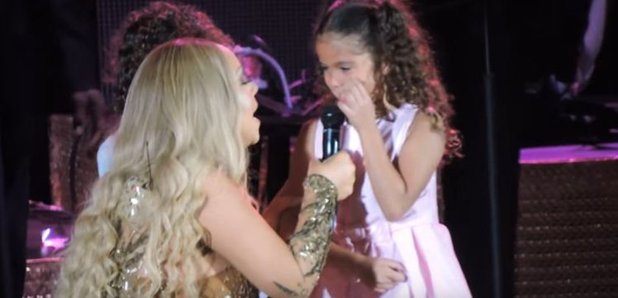 Mariah Carey is known for being a diva, but we must admit, our hearts melted when she brought out her children on stage to join her in the chorus of Always Be My Baby.
During her performance at the Hollywood Bowl, Mariah was joined by her six-year-old twins Moroccan and Monroe to help their mother out with the number one hit.
Visibly nervous, Monroe stepped up to the microphone (after some encouragement from her mum!) to sing a few lines of the hit.
For the rest of the song, she explores the stage with her brother, clearly eyeing up what mischief they can create.
Recently, the twins' father, Nick Cannon, said that he thinks his children will follow in his footsteps into the showbiz industry.
The 36-year-old television personality is convinced their children will follow himself and their mother Mariah Carey and become stars in their own rights.
He said: "My kids, especially Moroccan and Monroe, they're hams. They love attention. They love performing. My son is fascinated with cameras and directing and making little movies. They definitely have the bug."
"I'd rather them be nuclear physicists or brain surgeons. But I can't control that. So if they want to be entertainers, I'll support it."
Nick works hard to co-parent with Mariah and prefers for both of them to focus on the "unconditional love" they have for their children.
He added: "Just take the ego out of it, and really just unconditional love - doing what you're supposed to do as a parent. Parenting is an evolution, daily, you're bettering yourself. We all make mistakes ... but it's all rooted in unconditional love."