Mark And Michelle's Romantic Holiday Is Giving Us Serious Couple Goals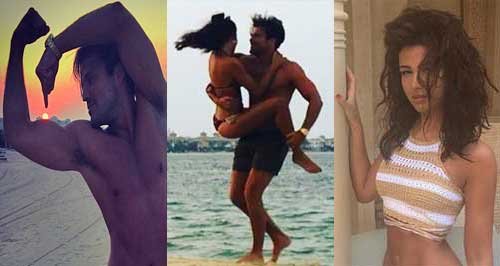 They've been busy sunning themselves on holiday in their favourite destination, Dubai! Meanwhile we've got hold of a little sneak peek into their holiday album snaps!
They've both got super intense work schedules back home, so it's no surprise Mark Wright and wife Michelle need a little time off every now and again!
Whilst Michelle Keegan is running around filming her hit BBC TV show Our Girl, Mark is busy doing his Club Classics show on Friday and Saturday nights right here on Heart, as well as countless magazine photoshoots and other TV show appearances.
Luckily it looks like they well and truly rekindled the flame (as well as reminding everyone how good looking they both are!), on their uber romantic getaway.
Mark couldn't resist showing off those muscles at sunset...(we're sure his fans won't mind too much!)
Meanwhile Keegs can't resist making a clever sea-based pun on her name, whilst she took a stroll on the beach...
The 29-year-old actress sizzled in this sexy bikini shot. Ooh la la Michelle!
It's just as well you work out Mr Wright! Just check out this extravagant Nutella and toast breakfast spread!
The 29-year-old radio DJ junk just couldn't resist picking up his gorgeous, svelte wife and swinging her round...
N'aww! These two are just too much!
Can we come with you next time guys please?