Martin Freeman drops biggest hint yet Sherlock WON'T return
10 April 2018, 06:43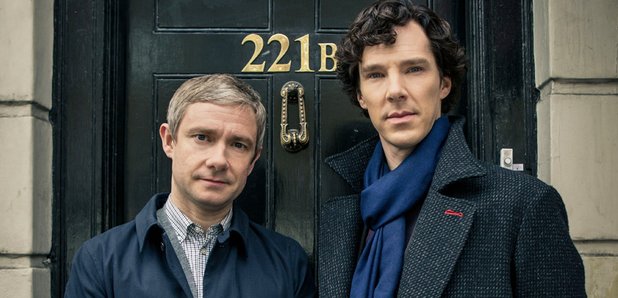 While promoting his new film Ghost Stories, the actor admitted the future of the cult BBC series is uncertain.
Martin Freeman has compared Sherlock's seven year run to the short but revered career of The Beatles – prompting fears that the BBC show is over for good.
Speaking exclusively to Heart, the 46-year-old explained that he has no idea if there will ever be another series of the slick detective show - and neither does co-star Benedict Cumberbatch, 41.
He said: "I always feel you do something as long as everyone involved want to do it, as long as the band wants stays together you do it.
"So I don't know, I'm just one of the band.
"It takes a lot to get us all together, that's the truth of it.
"But I really do believe in brevity and economy. If it's good enough for the Beatles it's good enough for me. Seven years making records, then off."
The Beatles' amassed a huge global fan base between 1963 and 1970 - similar to the passionate cult following enjoyed by Sherlock from its launch in 2010 until its most recent series which aired in January 2017.

Viewers last saw Cumberbatch and Freeman as Sherlock and Holmes in The Final Solution, an ambitious adaption of Arthur Conan Doyle's 1893 Sherlock Holmes story The Final Problem.
Martin admits that the episode felt like a natural conclusion for the show, but he isn't sure if it was the end or if there will be more to come.
He said: "We never said that's the end one, but it definitely felt like a pause because of the way it was all structured, and that story felt like a climax of sorts. So, I don't know.
"I genuinely don't know [if the show is coming back], and I don't think any of us know. I don't think Mark [Gatiss] or Steven [Moffatt] or Ben or I know whether that's the end or if there's more.
"I think part of what makes Sherlock special is that it is infrequent and that's partly what it's always been, and partly the thing that has made people want more is that we haven't given them more.
"You slightly withhold something and people like it even more, you add that to something that is as good as Sherlock frankly is and people go slightly nuts over it."
He also implied that the show was a victim of its own success after it elevated both him and Benedict to international stardom.
Between them, the pair have clocked up appearances in blockbuster Hollywood movies including The Hobbit, Marvel's Black Panther, Zoolander 2, Captain America and Star Trek.
It's not a game anymore. #Sherlock Series 4 coming 1st January 2017. pic.twitter.com/7laldfjXqH

— Sherlock (@Sherlock221B) October 26, 2016
"I like the show. I have always, we have all always liked the show," Martin said. "It is one of the highest quality things I will ever do, and as an actor you really want to say good words in a well shot, well written, well directed thing.
"Me and Ben are very lucky in that regard in that we have all those things.
"But unlike other shows it's allowed us the freedom to do many other things. Other shows would have said 'we are doing 15 of these this year and for every year for the rest of your life'.
"I think if we had done that we would have shot our bolt a while ago."