McFly Are Back On Tour And Buzz And Buddy Fletcher Are SO Proud Of Dad Tom!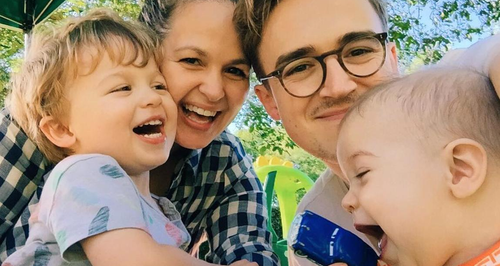 It's been three long years since the boys toured the UK as part of McBusted...but now they're well and truly back!
Danny Jones, Tom Fletcher, Dougie Poynter and Harry Judd shook up Manchester with their EPIC comeback gig, which didn't just focus on their old pop hits.
The lads proved their musicianship in front of a packed audience for three nights.
However, three people weren't as thrilled that one particular member of the band was missing from their lives...
Giovanna Fletcher and her two adorable boys Buzz and Buddy are certainly all missing dad Tom Fletcher whilst he's away on tour.
Nevertheless the team stayed strong as they Facetimed "daddy" to remind him how proud they are of him and how much they miss him!
Bless!
Meanwhile Giovanna also posted this AMAZING 'then and now' picture of the boys...taking us on a serious trip down memory lane:
Fans screamed along to classic tunes including: '5 Colours In Her Hair', 'Obviously' and 'Surfer Babe', jumping up and down to the energetic band.
But the band didn't only belt out the hits...they also serenaded the crowds with some b-sides and lesser known full-length records.
Sounded like an epic night lads!