Mel C Remembers The Day 'Giddy' Victoria Beckham Met Husband David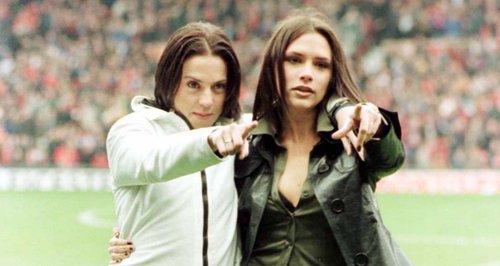 Mel C recalled the day that best pal and former band member Victoria Beckham met her husband David for the first time. It was love at first sight!
They were two fifths of one of the world's hottest bands, the Spice Girls, and now Mel C has taken a trip down memory lane to remember the day that her friend Victoria met her husband, David Beckham.
The 42-year-old singer talked about the day that Posh Spice and Sporty Spice went to Old Trafford, with Holly Willoughby and Ben Shephard on the This Morning sofa.
Mel C remembered how excited they both were about visiting the site. She recalled: "I am from Liverpool so for us both to go on the pitch at Manchester United, I can't tell you the things we shouted."
That's when presenter Ben Shepard - who's standing in for Phillip Schofield this week - interjected: "Wasn't that the day that she met David?"
"It was," she responded. "She was giddy on the way home. We've been thinking about how the children have grown up now, all the Spicey children."
Her words come after Victoria Beckham wrote about the day she met Manchester United footballer David Beckham for Vogue Magazine earlier this year.
David Beckham has previously spoken about how he met his wife, revealing that after he saw her in the video for Spice Girls' 1996 hit Say You'll Be There he decided: "That's the girl for me and I'm going to get her! She's my idea of perfection. I knew that if she wanted me, we would be together forever."
The couple married in 1999 and share four children; sons Brooklyn, 17, Romeo, 14, Cruz, 11, and five-year-old daughter Harper.

Mel C appeared on the show to talk about the release of her new album, Version of Me, which has received a lot of support on social media from Victoria's oldest son, Brooklyn.
She also went on to reveal the reasons why she won't be taking part in a Spice Girls reunion.
She said: "It is hard because there are so many people who want us to do it. But there are various reasons.
"When we reunited as a five-piece for the Olympics, that was so glorious, so this time it was bothering me.
"We are like a jigsaw puzzle and if there's a piece missing, we are not complete. We're not interchangeable, we're all about being together.
"If we all came together, that would be fantastic, but it's not going to happen is it? I would never say never but just not at the moment."
Fingers crossed then...