Is This The Wild Reason Why Melania Pulled THIS Face At Donald Trump?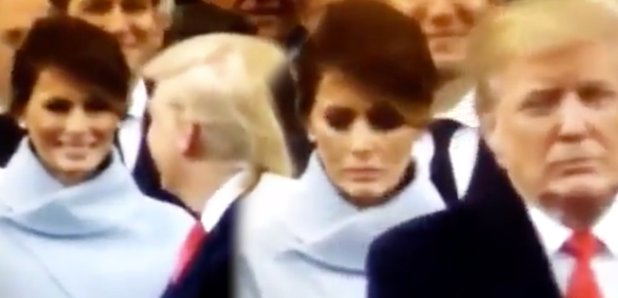 When Melania Trump was caught pulling this expression at the inauguration many people were worried.
At Donald Trumps inauguration, many eagle eyed viewers were quick to notice this awkward exchange between Melania and Donald Trump.
What appeared to be a pleasant exchange between the two then changed as Melania's face dropped from a smile the moment he turned back around.
This had many people worried about what he might have said to her to provoke such a reaction.
Most of us have had our eyes on Melania Trump during the trump, but some clever viewers have pointing out another important person in the frame that could explain the drastic reaction.
Theory: Trump turned to look at his daughter and ignored his wife. https://t.co/aNk6eniVVM

— A Rowdy Dirty Boy (@JonHexLives) January 24, 2017
Notice Ivanka making eyes at Trump -- he turned around to look at Ivanka, not Melania. He ignored her. https://t.co/Wir4hWwn8e

— #SaveCollin (@HandToForehead) January 24, 2017
That makes a lot of sense! Perhaps Melania thought her husband was turning to look at her but when she realised her mistake stopped smiling.
We'll never know the real answer but this seems the most likely option, especially with Ivanka Trump taking on lots of First Lady duties rather than Melania.
Could there be a bit of jealousy between the two Trump women?