Michelle Heaton breaks down as she reveals her daughter, 6, might share cancer gene
5 July 2018, 12:43 | Updated: 5 July 2018, 17:23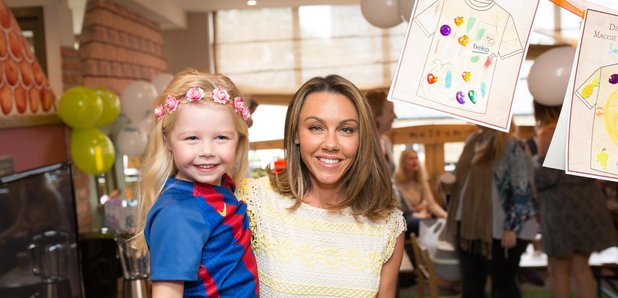 Michelle Heaton fears Faith may need to have her womb and breasts removed when she's older due to a dangerous faulty gene.
Michelle Heaton has opened up about her fears that she may pass on the cancer-causing BRCA2 gene to her daughter, Faith.
The former Liberty X singer, 38, had to undergo a preventative mastectomy and hysterectomy in 2015 after realising she had the faulty gene.
She told The Sun Online: "I actually get a lump in my throat.
"I mean it's horrible to look at her, in my head, the best way to look at it is when she is 18, and she gets offered the test, I hope that science evolves, and there is another option than what I've had to choose.
"Or genetics has evolved, and there's no such thing as BRCA2."
Following Michelle's surgery, she went through an early menopause, a tough experience she touched upon in her book, Hot Flush: Motherhood, the Menopause and Me.
She also explained that this led to her getting impatient with her children and her husband, Hugh Hanley at times, saying: "Is it me being a b**** of a wife, or a really annoyed mummy?
"Or is it the hormones. The answer is I really don't know."
Michelle has said she will give the book to Faith when she's older to get a better understanding of what she went through.
She added: "The best thing I can give her is my book. Because everything is in it, and I've not lied, exaggerated, I've been honest.
"So when she is of an age where she can understand I will just give her the book, and wait and see if she has any questions.
"As nothing has been forgotten, and it has all been explained. Maybe then she will realise why mummy has been a bit upset."
Watch more: