Michelle Obama Joins Snapchat And She's Got Some BIG News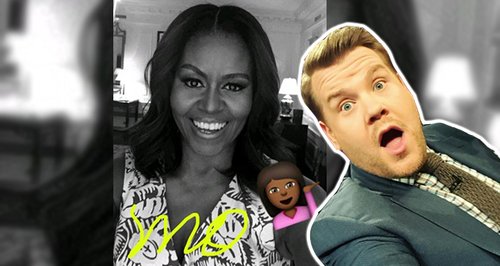 Er, why is James Corden on Michelle Obama's Snapchat?
We already know that she's one cool woman and she's not afraid to have a bit of fun on the job.
We knew this when we watched her rap about the importance of education and again when she challenged Prince Harry before the Invictus Games.

Picture | Snapchat/MichelleObama
So when she joined Snapchat we didn't hesitate to add her, MichelleObama, hoping that she will revolutionise our lives with a sneak peek into the life of the First Lady. And she did not disappoint.
We expected to see Mrs Obama but we didn't expect to see...

Picture | Snapchat/MichelleObama
That's right! James Corden was on her Snapchat. And she used the social media platform to announce that The Late Late Show host was at the White House to film the next Carpool Karaoke!
We really hope she sings 'Go To College' - the rap she made with Jay Pharoah...

Picture | MichelleObama
The White House says she joined the social media app to promote her trip next week to Africa, where she will visit Liberia, Morocco and Spain to encourage education for the estimated 62 million adolescent girls around the world who aren't attending school.
Make sure you add her. We predict that this is going to be a good 'un.