Mila Kunis And Ashton Kutcher Reveal Why Their Kids Aren't Getting Any Christmas Presents
10 October 2017, 11:39 | Updated: 12 July 2018, 13:59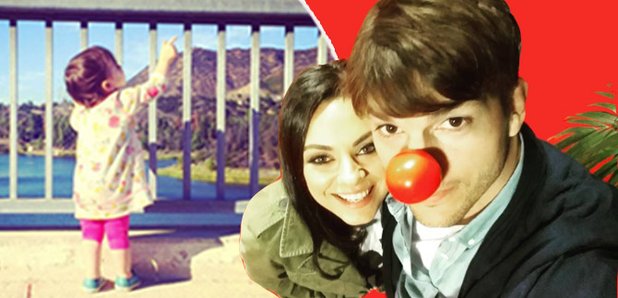 Money is no object for the two Hollywood actors but they have insisted their daughter Wyatt and son Dmitri won't be spoiled this year.
Christmas could be looking a little bleak if you're a child in the Kunis-Kutcher household this year, as Hollywood's golden couple have revealed they won't be buying gifts for their two kids.
Mila and Ashton are proud parents to three-year-old daughter Wyatt and one-year-old son Dmitri, however, the couple have decided to opt out of spoiling their children rotten this festive season.
The 'Black Swan' actress actually gave a pretty good reason for their decision and claims her two sprogs are far too young to comprehend the idea of receiving lots of presents in one day.
So far, our tradition is no presents for the kids," Kunis told Entertainment Tonight. "We're instituting it this year because when the kids are (younger than) one, it doesn't really matter."
According to Mila, when kids are spoilt rotten, they no longer see the value in having just one gift.
"Last year when we celebrated Christmas, Wyatt was two and it was too much," she explained. "We didn't give her anything — it was the grandparents. The kid no longer appreciates the one gift. They don't even know what they're expecting; they're just expecting stuff."
Kunis said she and Kutcher each asked their parents to limit the gift-giving to one present this year.
"Otherwise, we'd like to take a charitable donation, to the Children's Hospital or a pet (or) whatever you want,'" she added. "That's our new tradition."
The brunette beauty says her kids upbringing is far different from her own when she was raised in communist Russia.
However, she learnt to appreciate the "magical" qualities of Christmas once she moved to America, and says her focus on the holidays is all about family bonding.
"Whether it's Easter, which we've now all accepted into our Jewish household, or Christmas, it doesn't matter," she said. "It's all family time, but having kids, we're building up our own little versions of tradition."
Cute!