Adele Cancels Concert With An Emotional No Make Up Message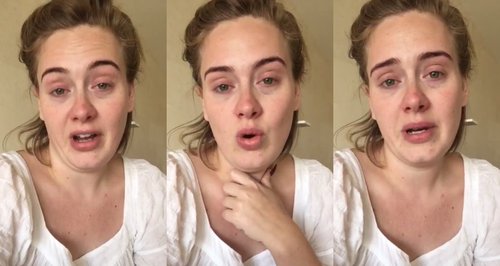 Adele has been forced to cancel one of her shows due to ill health and she announced the news with an emotional apology in a video to fans.
The 28-year-old Grammy Award winner told her fans that she has been suffering from a cold for the past few days but persisted and continued to perform.
August 17, 2016
"Hello everyone, specifically everyone in Phoenix, Arizona," she begins. "I can't do my show tonight, my second show here. I'm really, really sorry.
"I've had a cold for a couple of days and I've been pushing through it, and I did my show last night and loved it - but I pushed too hard and my cold has got the better of me."
The natural beauty opted for a stripped back look and sounded bunged up and nasally, looking genuinely upset.
"As you can hear, even if I did the show, it wouldn't be very good. I'm really, really, really, really sorry to let anyone down.
"i've enjoyed my tour so much and cancelling shows has not been something that I want to do.
"I've pushed through a lot, but I've been trying to sing all morning and warming up, but nothing's really happening.
"I'm so sorry to let you down, I know lots of people will be flying in from all over, it's the last thing I want to do but I have to look after myself."
The Hello singer is currently on her 25 worldwide tour and is expected to continue her tour across North America before heading to Mexico.
Awww poor Adele! We recommend some good bedrest, Lemsip and Alphabetty Spaghetti - with all of the letters of course!