Watch: It's An Adele Medley - But Who Covered Her Best?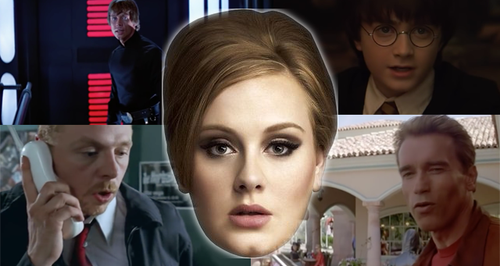 'Hello' has dominated the airwaves for the last few weeks, and we love it! We love it soooo much that we want to do our own cover of it. (We know you want to hear it!)
...But until then, here are a few of the best versions of the epic track that have been gaining attention on the internet.
1. Adele's 'Hello' By The Movies
Someone has put together this ingenious version of 'Hello' by taking clips from films and mashing them together. It's so funny! See if you spot your favourite film characters!
2. Hello! Matthew McConaughey Performs Adele's Hit Single (And She Loves It, Of Course)
Everyone knew that Matthew McConaughey was going to pull it out the bag for the special Thanksgiving episode of American comedy TV programme, 'Saturday Night Live', but we didn't expect, well, this!
The Oscar-winner donned a wig, make-up and a fur coat to reenact Adele's music video for 'Hello', and the results are amazing!
The faux music video was part of a sketch about a family fighting during Thanksgiving dinner. As they all bicker over politics, policing and the refugee crisis, one of the younger family members decides to break the cycle of squabbling by playing Adele's track.
The one thing they can all agree on is how much they love the song…cue some brilliant lip-syncing. Watch the whole thing here…
To make matters more interesting Adele was actually ON the show, singing two tracks from her new album '25'. Things could have got awkward, but Adele was typically relaxed about the whole thing – even posting a picture of her reaction on Instagram.
Take a look…she seems like she's loving it!
Let's face it, we love Matthew and we love Adele, so this was always going to be incredible. Just in case you need a reminder, here's Adele's version of 'Hello'…
3. Korean Schoolgirl Wows Ellen With Adele 'Hello' Cover
American chat show host Ellen DeGeneres is known for bringing viral internet sensations to live TV, which is why we weren't too surprised to see Korean schoolgirl Lydia Lee on her show.
The teenager posted a video of herself singing an AH-MAY-ZING cover of Adele's single 'Hello' and, of course, it immediately went viral.
Since posting her video Lydia has racked up a total of 16 million views. Not bad, eh?
Like everyone else, Ellen DeGeneres was obsessed and decided to invite Lydia and her mum to hop on a plane in Korea and join her in Los Angeles. What a lucky girl!
Check out Lydia's performance on the Ellen Show in the video below…
In case you want more, here's Lydia's original viral video…
Isn't she incredible! Knowing we'll never ever be able to sing like that makes us a teeny tiny bit sad…excuse us while we go and cry in a corner.
4. Miss Piggy
We don't know whether to laugh or cry at Miss Piggy's epic cover of 'Hello!'
As many will know, Miss Piggy and her long-term partner Kermit the Frog have recently parted ways and this video shows the gut wrenching emotion that these poor, broken-hearted Muppets are going through.
We wish them both the best through this hard time...