Adele's Boyfriend Just Outdid Every Romantic Anniversary Gesture Ever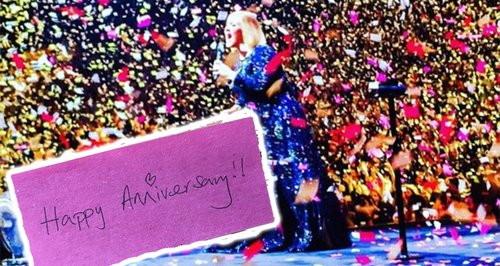 The singer's partner Simon Konecki surprised his beloved with the sweetest possible gesture during her Nashville concert...
True love isn't all about the big romantic gestures, but sometimes they can be pretty special nonetheless.
Whilst most of us struggle to get a 'goodnight text' from our partners, Adele on the other hand is being literally showered with affection by her other half on their fifth anniversary.
The 28-year-old was given the surprise of her life at the end of her concert in Nashville when the falling confetti that usually comes down at the end of her concert had was pink rather than the usual white.
The 'Hello' songstress is known for pouring confetti covered with written lyrics on her fans during her grand finale of her huge stadium gigs, but this time around her baby daddy influenced things with his own special touch.
This time around Simon wrote his own phrases on the pink coloured confetti.
The deeply romantic messages from her lover of five years and father to their son Angelo included messages saying "Happy anniversary" and "You're and angel".
Last night Simon surprised Adele for their 5th anniversary with some love quotes on pink confetti. pic.twitter.com/YO5R6L9KFJ

— Adele Daily (@AdeleDailyInfo) October 17, 2016
We reckon the queen of the charts will be returning the loving gesture soon!