We're Willing To Bet This Is The Best Adele Doppelgänger You've Ever Seen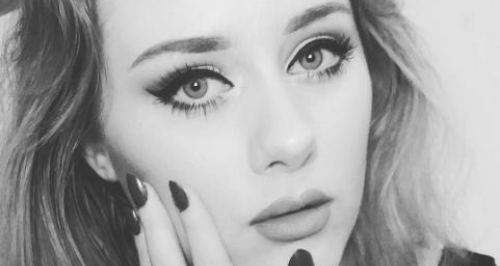 We've laid eyes on a fair few Adele lookalikes in our time, but when it comes down to the crux, we're certain we've found the very best Adele wannabe yet!
Meet Ellinor Helborg, aka. Sweden's answer to the queen of soulful ballads.
Can you spot the difference? If you can, then you've better eyes than we do!
The 22-year-old is a bit of a whizz at doing her makeup (to say the least!) and could certainly give Kim Kardashian a run for her money.
After being told time and time again that she looks like the megastar, the talented beauty decided to make the most of the likeness and create the classic 'Adele look'. We're talking winged eyeliner, flawless complexion and big hair.
1. So, this isn't actually the 27-year-old 'Hello' singer... we repeat this is NOT Ade.
2. Likewise, this isn't the North London songstress either...
3. This one? Yep, you've got it, Ellinor too.
4. Mind blown yet? Maybe this one will do it...
Pretty crazy huh?
And the message to all those overly critical Social Media users who say Ellinor doesn't look like the Oscar-winning singer?
"I do not strive to look like her, or anyone else. I am my own person" she wrote in an Instagram post.


"I have my own face and I look like me. Telling me or other people in the comments I don't look like Adele means nothing, because that is not who I am trying to be."
Why not create your own Adele-inspired look with our nifty how-to guide below?