Gary Barlow teases new information about Take That's greatest hits album
3 September 2018, 10:39 | Updated: 3 September 2018, 12:20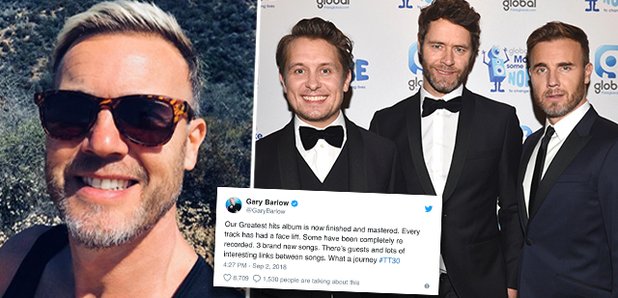 Gary Barlow has been back in the studio with Take That buddies Mark Owen and Howard Donald to celebrate the band's 30th anniversary.
GarY Barlow has revealed that there will be three new songs on Take That's new Greatest Hits album - and fan favourites will be reworked to sound completely different.
Take That, who were once a five-piece with both Robbie Williams and Jason Orange, have been working hard on their TT30 project, which will see some of their best-loved tracks totally reimagined.
Frontman Gary Barlow took to his Twitter page to reveal some exciting news about the upcoming album, and announced that it is now complete.
Our Greatest hits album is now finished and mastered. Every track has had a face lift. Some have been completely re recorded. 3 brand new songs. There's guests and lots of interesting links between songs. What a journey #TT30

— Gary Barlow (@GaryBarlow) September 2, 2018
Gary teased that every track had had a 'face lift', with some songs going through a complete re-record. He also revealed that TT30 would include 3 new songs, and some guest vocals.
But the cheeky songwriter failed to reveal exactly who those vocals belong to.
He has also left it unclear as to whether former band mates Robbie Williams and Jason Orange are involved in the 30th anniversary celebrations.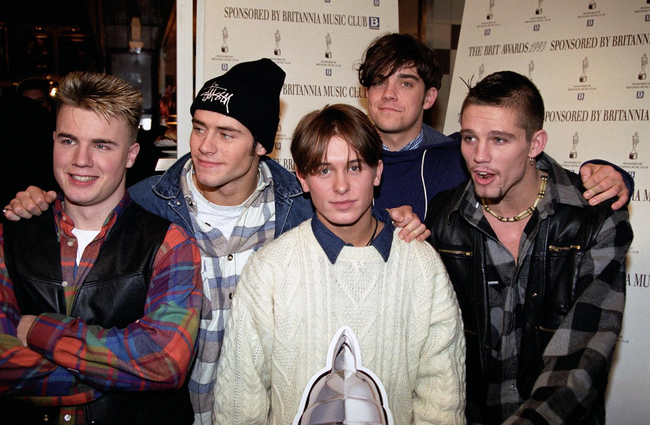 Credit: PA Images
Robbie Williams quit the band in 1995, before returning briefly in 2010 for the groups' Progress album and tour. He then continued his solo work and, more recently, embarked on his X Factor judging duties with wife Ayda Field.
Meanwhile, Jason Orange left in 2014, leaving Gary Barlow, Mark Owen and Howard Donald to keep the pop legacy alive as a three-piece.
WATCH! Gary Barlow freezes himself in cryotherapy chamber: