Watch Beyonce Prove She Is Queen Of EVERYTHING Once Again!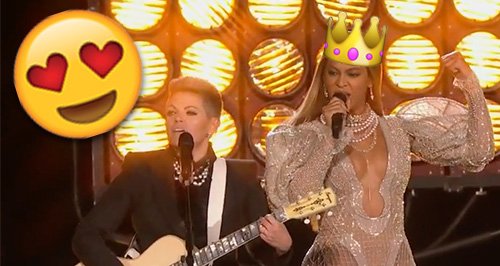 The singer stunned the audience at the Country Music Awards proving she slays EVERY music genre! Lets all bow down...
We've all known for a while that Beyonce pretty much rules the music world everytime she releases music, but this time she tried something a little different.
This video proves she pretty much rules any musical genre she tries her hand at as this performance happened to be at the Country Music Awards alongside country music legends, the Dixie Chicks.
A far cry from hip-hop events with her hubby Jay-Z!
Goosebumps!
The star performed the song Daddy's Lessons with the Dixie Chicks from her recent album Lemonade and it certainly wen't down a storm.
Twitter was FULL of talk about the performance from both sides of the Atlantic...
Watching the CMA's waiting for Beyonce... pic.twitter.com/C4SmhniycF

— B. (@BenitaShae) November 2, 2016
You guys, @Beyonce and the @dixiechicks sang together on the CMA's.

Pretty much my whole has been made.

— Kimberly J. Brown (@OfficialKJB) November 3, 2016
Beyoncé slaaaaayed the CMA's too I knew the country lovers would like Daddy Lessons

— Shawnta' (@slj34) November 3, 2016
Beyoncé performing at the CMA's is actually the best thing ever she KILLED it

— Eyerusalem Robi (@EyerusalemRobi) November 3, 2016
Queen Bey, long may you rule!