Madonna's Cape Designer Armani Explains THAT Epic Fall At The Brits!
Madonna's dress designer Georgio Armani claims the singer was "difficult" when designing THAT damning cape responsible for her BRIT AWARDS fall. Watch it here!
UDATE: 4th March 2015
Madonna's fall on stage may be down to the fact she was "difficult" during the design process and refused to budge on ideas for a more practical outfit, if claims by Georgio Armani are to be believed.
The famed designer claims the 57-year-old singer insisted on tying the rope around her neck instead of having a easy-to-unfasten hook, which resulted in her being strangled as she was dragged off stage by the garment in a painful tumble.
He said: "This cape had a hook and she wanted a tie, and she wasn't able to open it with her hands. That's all there is to it. Madonna, as we all know, is very difficult."
Ouch!
UPDATE: 27th February 2015
Madonna has revealed she's suffering from whiplash following her now famous fall at the Brit Awards.
The 'Like A Virgin' singer said in a TV interview: "I had a little bit of whiplash, I smacked the back of my head. And I had a man standing over me with a flashlight until about 3am to make sure I was compos mentis."
She added: "I am always nervous of live TV, when you're singing you can't make any mistakes, the worst thing is you fall down stairs. I like to make my shows dangerous but then there is danger."
During her performance at the awards show the star took a bad tumble down some stairs when her cape became stuck. Watch the video above...
ORIGINAL: 26th February 2015
Madonna hit the stage at the Brit Awards last night only to come crashing down in a painful-looking fall during the show.
The 'Like A Virgin' singer was performing 'Living For Love' when one of her dancers tried to remove the cape she was wearing, only to pull her down some stairs.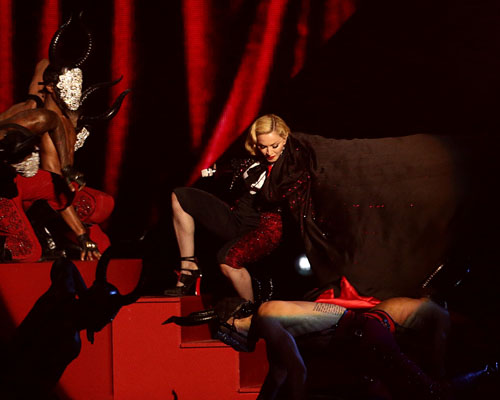 To her credit the 56-year-old picked herself up and carried on with the rest of the performance, later posting to Instagram saying: "My beautiful cape was tied too tight! But nothing can stop me and love really lifted me up! Thanks for your good wishes! I'm fine!"
Twitter reacted immediately to the accident with some sympathetic, and not so sympathetic tweets...
That Minotaur that dragged Madonna down the stairs is SO unemployed right now

— Alan Carr (@AlanCarr) February 25, 2015
THEY TRIED TO KILL HER?!? #BRITAwards #Madonna

— Judith Finch (@Judith_Finch13) February 25, 2015
The irony of madonna singing a song about carrying on after completing one of the most glorious stacks that I've seen is just too much.

— Nick (@Nb224Nick) February 25, 2015
I've just realised Madonna is only 10 years younger than my mother. Older people are more susceptible to falls. #brits

— Steven Thomas (@TheStevenThomas) February 25, 2015