10 Times Coldplay Gave Us Goosebumps With Their Live Performances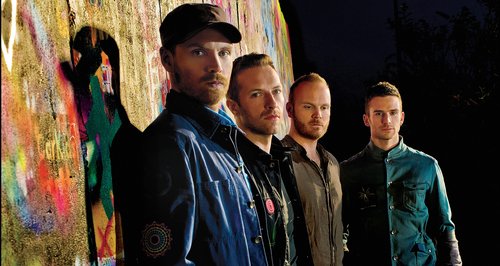 Who said four grown blokes jumping around on stage can't make you cry? Here are 10 times Coldplay's performances have given us major feels...

The crowd is packed, you've got a pint of cider in a plastic cup and then the lights go down...it can only be the start of a concert!
If you've been lucky enough to see your favourite bands and artists live you'll know just how fantastic the experience can be. And one band that really knocks it out the park is British four-piece Coldplay.
If you've never had the chance to see the group live, don't panic! Here are some of their most spine-tingling performances, PLUS scroll down to see how you can win the chance to see them live at Wembley...
'Yellow' - Glastonbury, 2002
Originally released in 2000, 'Yellow' was Coldplay's first big hit and the track was swiftly nominated for a Grammy Award. Watch the band perform the song in front of a packed festival crowd in this video from 2002.
'Fix You' - Paris, 2012
The band apparently wrote this fantastic song for Chris Martin's ex-wife Gwyneth Paltrow when she was struggling with the loss of her father. 'Fix You' first hit the airwaves in 2005 and it has been a Coldplay anthem ever since!
'Paradise' - The Paralympic Games Closing Ceremony, 2012
It took 10 weeks in the chart for this catchy tune to make it to number one, but there's nothing like hearing it sung live. Amazingly, it sold over 900,000 copies!
Viva La Vida - Madrid, 2011
Officially Coldplay's first ever number one, 'Viva La Vida' has one seriously catchy hook...you know, 'Woooah oh oh'. We give up just listen to the masters sing it live!
'Princess of China' - The Jingle Bell Ball, 2015
This duet with Rihanna originally released in 2011 shouldn't work, but somehow it really, really does! Watch the band do an incredible live performance at Capital FM's Jingle Bell Ball 2015.
'Clocks' - Toronto, 2006
Released in 2003, 'Clocks' is one of Coldplay's best-selling singles and the third single released fro 'Rush of Blood to the Head' - arguably the band's best album. Oooh we sense a debate coming on...
'Magic' - 'Later With Jools Holland', 2014
This great track was taken from the band's sixth studio album 'Ghost Stories' and the spooky video certainly grabbed everyone's attention. Check out the song sung live on TV in the video above.
'Hymn for the Weekend' - The BRIT Awards, 2016
Okay, so this might not be one of Coldplay's classic tracks, but it does feature vocals from Beyoncé so you just know it is going to be good. They even performed the track live at this year's BRIT Awards...
'The Scientist' - Madrid, 2011
Grab your tissues folks because this is a weepy one! 'The Scientist' is one of Coldplay's most emotional tracks and it has remained a fan favourite since its release in 2002.
'Every Tear Drop is a Waterfall' - Germany, 2011
Not only was this one of the first times the band had ever played this song live, but it also started raining mid-song making the experience even more memorable for the massive crowd. Taken from the band's tricky to pronounce 2011 album Mylo Xyloto, this track is certainly one of our faves.
Want to get the ultimate Coldplay experience for yourself?!
You and a friend can win the chance to see the band LIVE at Wembley in June, plus a whopping £350 spending money!
Find out more about this incredible competition in partnership with StubHub, click here.
Are you a Coldplay superfan? Let us know below...