He's Back! Comedian Ricky Gervais To Host Golden Globes Again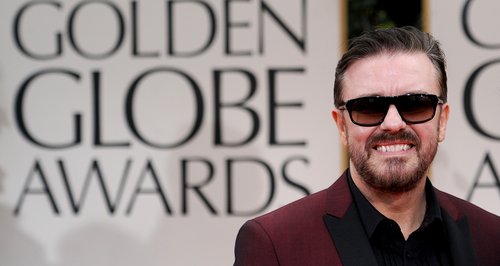 Ricky Gervais has already hosted the Golden Globes awards ceremony three times before so we take a look back at his most controversial comments – and what we can expect from the comedian this time around...
Ricky Gervais is to return for the fourth time as the host of Hollywood's Annual Golden Globe Awards.
You may remember the British comedian caused controversy back in 2010 when he made a few below-the-belt jokes about some of Hollywood's leading stars – and vowed in 2012 to never host the awards again.
But in a blog post entitled "Ricky's back!" the Hollywood Foreign Press Association, which organises the Golden Globes, confirmed the news that he'll be hosting the 2016 Golden Globes.
So to prepare for Ricky vs Hollywood round four, here are three of the most controversial comments and deadpan jokes made by Gervais while hosting previous Golden Globes…
2010
"Actors aren't just loved here in Hollywood, they are loved the world over. You could be in the third world and get a glimpse of a Hollywood star and it could make you feel a little bit better. You could be a little Asian child with no possessions and no money. But you could see a picture of Angelina Jolie and you'd think, 'Mummy!'" (2010)
2011
"It was a big year for 3D movies. Toy Story, Despicable Me, Tron. It seemed like everything this year was three-dimensional. Except the characters in The Tourist."
2012
Introducing Melissa McCarthy: "She made her mark in comedy this summer by defecating into a sink. Amazingly, that's still less demeaning than what most of you have done to make it in show business."