The Greatest First Dance Songs Ever: The Heart Edit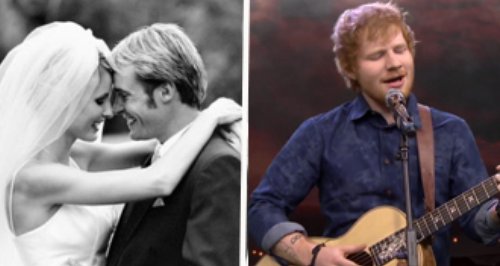 It's one of the most important day's of your life - the moment you show your family and friends who is the most important person to you in the world. After the 'I Dos' comes the big party and the moment when you take to the dance floor with your one true love. The song that plays first will be forever remembered by the both of you, so it needs to capture your personalties perfectly. No pressure then! Here are some of our favourites to help you decide...
'Stay With Me' - Sam Smith
Sam Smith owns the charts at the moment and for couples who want their first dance to reflect the time they got hitched, this song is a perfect choice. The way Smith has added his vocals to the song creates a beautiful layered affect that is almost like a gospel choir singing from the church rafters - perfect for that loved up first waltz across the dance floor as a married couple.
'Let's Stay Together' - Al Green
One of the most beautifully laid back but touching songs off all time, no one sings it quite like Al. Let his soothing tones carry you and your heart's desire away.
'Thinking Out Loud' - Ed Sheeran
Ed's laid back style is the perfect compliment to the low key couple who only have eyes for each other. The musician may only be 24-years-old but that hasn't stopped him perfectly capturing those deep emotions that only lovers fully understand.
'How Deep Is Your Love' - Take That
After Robbie left the band, Take That soldiered on as four piece and continued to have some of their most successful hits. Amongst these was a cover of the Bee Gees 'How Deep Is Your Love'. Howard, Gary, Donald and Jason gave this romantic song a new lease of life - no wonder it's a wedding fave!
'I Will Always Love You' - Whitney Houston
Most people aren't aware that this song was originally written by country singer Dolly Parton in the 1970s. When Whitney Houston recorded her version for the 1992 movie 'The Bodyguard', she put her personal brand of melancholy into the music and forever stamped her mark on the stunning song.
'Your Song' - Elton John
A soulful, timeless love ballad, which has been continued to capture lovers heart's since Sir Elton composed it back in the 70s. A simple and humble song about the narrator's feelings, the innocence of this tune has won over legions of fans.
'Marry You' - Bruno Mars
With a chorus that repeats 'I think I wanna marry you' the couple who pick the Hawaiian singer's famous song as their first dance couldn't really be any clearer about their intentions. A wonderfully upbeat choice, this happy song will have your loved one and your soulmate feeling on top of the world.
'Kiss from a Rose' - Seal
Soulful vocals are kind of Seal's thing. This chart-topping tune is a favourite in the Heart office where you're always sure to find someone singing along whenever it comes on the radio. The gorgeous track isn't just popular at Heart HQ however, it's also remained a firm first couice for many newly married couples since it's release in 1994.
'Chasing Cars' - Snow Patrol
This classic rock tune has the enduring ability to strike a chord with lovestruck couples. Although some may find it quite a dark song to pick as a first dance choice, this heart wrenching tune with it's emotional lyrics and heavy guitar riffs knows exactly to pull at those heartstrings.
'The Way You Look Tonight' - Frank Sinatra
Originally performed by Fred Astaire, Sinatra had a tough job ahead of him when he took on this track. Covered by everybody from Billie Holiday, to Ella Fitzgerald and Tony Bennett, the crooner made this track his own and this version is now one of the most widely cherished, popular with lovers the world over.