Beyonce Duetting With Ed Sheeran Is Every Bit As Amazing As You Imagined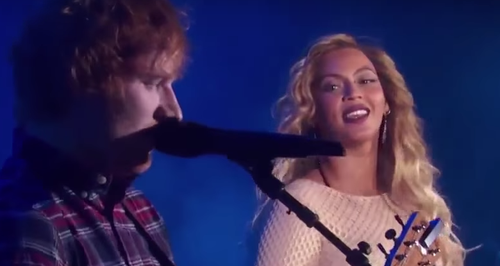 Global superstar and all-round superwoman Beyoncé invited our favourite ginger crooner to share the stage with her at the Global Citizen Festival to sing a very special acoustic version of 'Drunk in Love'.
Both were performing at the New York based festival, which coincides with the launch of the United Nations' new Global Goals campaign.
Ed performed his own tracks earlier in the night, welcoming Coldplay's Chris Martin to do special versions of 'Thinking Out Loud' and 'Yellow'. He even called the collaboration "epic" on Twitter.
We don't know about you, but we're feeling a bit (a lot) jealous of that very lucky crowd!
Check it out for yourself in the video…
This marks the second time that Ed and Beyoncé have shared the limelight as they performed a special duet dedicated to Stevie Wonder earlier this year.
Missed it? Take a look…