Surprising Musical Duets That Shouldn't Work But Totally Do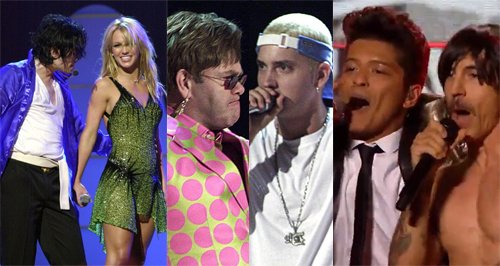 Elton John performing with Eminem and Michael Jackson dancing with Britney Spears may seem like the stuff of dreams, but these crazy duets actually happened! We've got the evidence here...

Some duets make perfect sense, but others are so downright mind-boggling that they cause music fans to stop and take notice.
Here's our pick of the strangest musical duets that have happened over the years, including the King of Pop with the Princess of Pop and Mother Monster with a legendary crooner...
Cher and David Bowie
Outlandish singer Cher performed with the late, great David Bowie in 1975 with this unusual rendition of 'Can You Hear Me'. We don't know what terrifies us more about this video, the blue smoke around David Bowie or Cher's bowl-cut hairstyle. Yikes!
Michael Jackson and Britney Spears
At a special 2001 performance hosted by Michael Jackson dubbed 'The Michael Jackson: 30th Anniversary Special', the King of Pop invited pop starlet Britney Spears to the stage for a rendition of 'The Way You Make Me Feel'. This is Britney at her absolute peak and she's looks incredible...but we're not sure how live her performance is! Judge for yourself in the video.
Elton John and Eminem
The iconic British singer-songwriter teamed up with mid-00s super rapper Eminem to perform an *ahem* interesting version of 'Stan' at the 2006 Grammy Awards. Elton's Mr Blobby suit is by far the highlight of the performance!
Lady Gaga and Tony Bennett
She may be a superstar pop singer, but Lady Gaga teamed up with crooner Tony Bennett for a jazz album, 'Cheek to Cheek', which was launched in 2014. Amazingly, the album won a Grammy for 'Best Traditional Pop Vocal Album' in 2015, followed by Gaga winning a Golden Globe for her acting chops in 2016...is there anything this lady can't do?!
R. Kelly and Celine Dion
The 1990s were an interesting time for music, and nothing is more stereotypically 90s than this duet between Celine Dion and R. Kelly. Their 1998 track 'I'm Your Angel' reached number one in the United States and was certified platinum, which is remarkable considering how truly terrible it is. The single was even nominated for a Grammy Award! Yikes.
Aretha Franklin and George Michael
Who would have thought that in 1987, soul singer extraordinaire Aretha Franklin and Wham! front man George Michael could combine to create the karaoke classic 'I Knew You Were Waiting (For Me)'? It will always be one of our favourite sing-lie-no-one-is-listening tracks. Go on, give the video a watch for a blast of nostalgia.
Paul McCartney and Stevie Wonder
There's always magic where Stevie Wonder is involved, but combine him with a Beatle and you get 'Ebony and Ivory' - a 1982 classic that hit number one the world over. The song was designed as a self-empowerment track to tackle issues of racial inequality, and it certainly caused a stir when it was released. Sadly, the song was soooo 80s and sickly sweet that it was quickly branded one of the cheesiest songs of all time. What do you reckon?
Nick Cave and Kylie Minogue
Australian rock band Nick Cave and the Bad Seeds combined with pint-sized pop star Kylie Minogue to write melancholy song, 'Where the Wild Roses Grow', which is, well, kinda sorta weird. The video is painfully 90s and the song has all the trappings of a 'post break-up number', but somehow it works! Check it out for yourself above.
Blue and Stevie Wonder
In 2003 cheesy (but amazing) British boyband Blue managed to pull off a coup by teaming with Stevie Wonder on a cover of his hit, 'Signed, Sealed, Delivered'. We literally have no idea how they managed this feat, but we will forever have the record etched into our memories. What a tune!
Bruno Mars and Red Hot Chili Peppers
There are few artists who have the energy levels of Bruno Mars...except perhaps Anthony Kiedis of the Red Hot Chili Peppers. The mega-watt star and world-famous band teamed-up for the 2014 Super Bowl Halftime Show and it's safe to say the results were pretty fantastic (and sweaty). You can check out the evidence in the video above.
Uh oh...
And then there are some duets that are soooo bad you can't believe they ever existed, like Sylvester Stallone and Dolly Parton. No, seriously!
What famous duets float your boat? Tell us below...