Stars Bid Obama Farewell As He Sheds A Tear During Emotional Final Speech
Farewell Address to the American People
51:26
The outpouring of support from Hollywood's biggest stars came flooding in as they waved goodbye to their President.
Ellen DeGeneres lead a string of American stars who took to Twitter to bid farewell to their President, Barack Obama.
The soon-to-be former Commander-In-Chief returned to his hometown of Chicago, Illinois, to deliver his final address with a heart-wrenching speech which bought audience members to tears.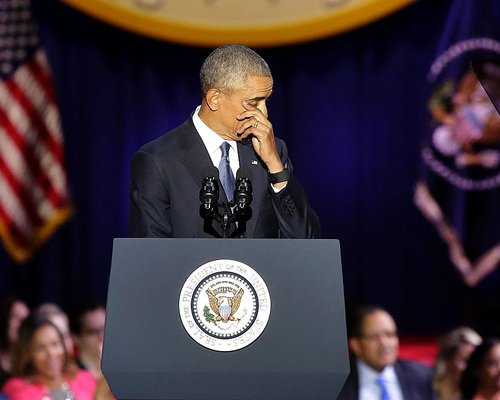 The President was overwhelmed with emotion as he delivered his final address (Getty)
During the 50-minute discourse, his 18-year-old daughter Malia was pictured looking overwhelmed with emotion as she sat next to her mother and First Lady Michelle Obama who watched on from the crowd.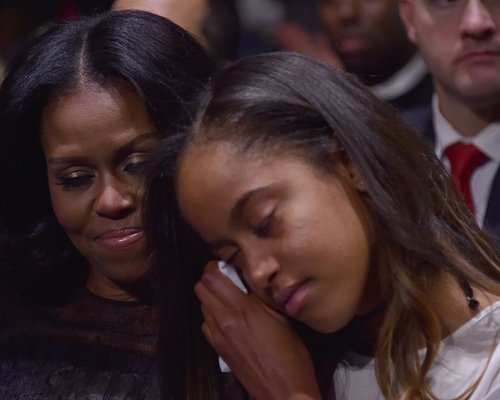 It appeared the reality of his last address in office became too much, as the President was visibly overcome with emotion and was pictured shedding a tear from his eye as he paid tribute to his wife, who he claimed made the role of First Lady her own with "grace and with grit and with style."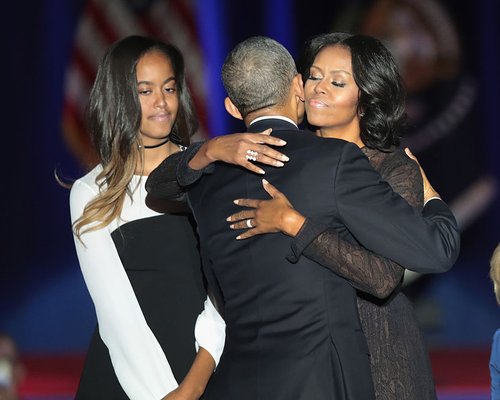 Following the speech a number of stars flooded Twitter with tributes in which they thanked him for the eight-year term he served as President and their sadness at his upcoming departure from the White House.
'Roar' hitmaker, Katy Perry expressed her emotions with two prayer hand emojis, before acknowledging Barack's tribute to his wife as "life goals".
Me right now https://t.co/gW55C1wrwd

— KATY PERRY (@katyperry) 11 January 2017
Life goals. https://t.co/XIn1qKMKQl

— KATY PERRY (@katyperry) 11 January 2017
Ellen DeGeneres chose to express her admiration for the President, by claiming that she loved him "more than I have space on Twitter to describe".
.@POTUS @BarackObama I love you more than I have space on Twitter to describe. #ObamaFarewell

— Ellen DeGeneres (@TheEllenShow) 11 January 2017
U R the last President my mom & brother were alive 4 the last president we all shared so U will always represent the best of times 2me

— Whoopi Goldberg (@WhoopiGoldberg) 11 January 2017
Actress Sharon Stone, who was in the auditorium on the night of the address opted to share a throwback photo with Obama from when he was Senator prior to his presidency.
From here with the Young Senator from Chicago to tonight. #obamafarewell. We will miss you. pic.twitter.com/B9pPJ3p1CC

— Sharon Stone (@sharonstone) 11 January 2017
It wasn't just American stars who paid their respects, as British singer Niall Horan of One Direction also praised the Obamas as the "nicest family on earth".
Don't get me started but I'm going to miss the obamas . The nicest family on earth .

— Niall Horan (@NiallOfficial) 11 January 2017
President Obama is the 44th President of The United States and made history by becoming the first African-American to hold the highest position in office.