Olly Murs Takes On Johanna Konta In A Challenge Of Tennis Truths
4 July 2017, 16:00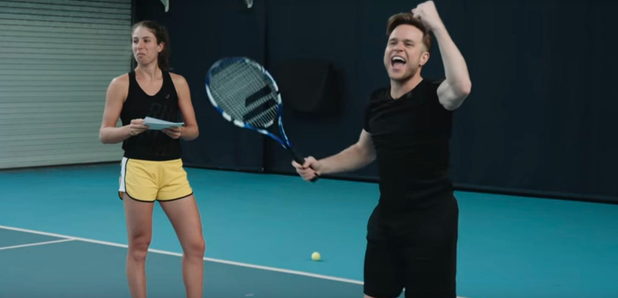 Singer and songwriter Olly Murs joined British tennis champion Johanna Konta to battle out who should be crowned King or Queen of the court.
Getting into the spirit of Wimbledon, Olly Murs challenged British No. 1 Johanna Konta to a game aimed at testing their skill and accuracy.
Each had to knock down as many tennis ball tins as possible, while their opponent distracted them with a series of questions which revealed Olly's dream doubles partner and what he'd choose as his last meal on earth.
To level the playing field, Johanna was given an eye mask to wear during her turn, but it didn't seem to hinder her performance too much!
Olly Murs said: "Tennis is a great sport! I've recently started playing again as we decided on a 70's inspired tennis theme for our music video where we had to have some coaching. Louisa and I went head to head in a 'Battle of The Sexes' match, so to actually replicate that with British No.1 Johanna was a lot of fun!
"I have some very fond memories of growing up watching Wimbledon with my mum, and am looking forward to cheering on all our Brits this year! Hopefully I can keep the tennis lessons up and play Konta again when I've got some more practice under my belt!!"
Johanna Konta added: "I am a big fan of Olly Murs and fondly remember when he was on X Factor, so to have a hit with him was a real treat. I am fortunate to have played against some of the greatest tennis players in the world and Olly's game is certainly up there, so with a little more practice, I think he could give our Aegon GB Davis Cup Team a run for their money.
"Hopefully it will be a great summer for tennis and I'm looking forward to having Olly and Louisa cheering me on at Wimbledon - I'm anticipating our re-match already!"