Olly Murs Finally Breaks Silence On His Romance With Melanie Sykes
5 January 2018, 17:47 | Updated: 19 October 2018, 12:05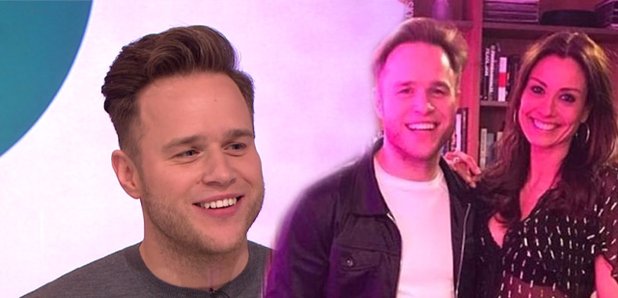 The 'Troublemaker' singer has finally put rumours that he was dating the 47-year-old presenter to bed.
Olly Murs has finally spoken out on whether he has secretly been dating Melanie Sykes during an interview with Loose Women on Friday afternoon.
The cheeky singer appeared on the daytime panel show where he discussed his rumoured fling with the 47-year-old presenter, after it was reported they struck up a romance before Christmas.
Olly had been talking about his new job as a coach on The Voice, but the ladies just coudn't resist grilling him on his love life too.
Guest panellist Kelly Brook questioned him about the relationship, even asking where he took Mel for dinner.
However, Olly insisted he is now "single" before saying it was "crazy" how much interest there is in his love life.
When asked about whether he had enjoyed a fling with Mel, Olly admitted: "Mel's amazing...there might have been something".
However, the 'Troublemaker' singer insisted that he was still a free agent and often spends nights in bed alone.
he added: "I'm single, since the last time I checked, I'm definitely single.
"It's just me in my bed alone."
If you need company, we'd be happy to join you in bed Olly!
The news comes after Melanie appeared to shut down rumours she was dating Olly Murs, by referring to herself as "single" in an Instagram post.
Taking to Instagram, Mel wrote: 'To all those writing shite about me and my life. This is what a single, happy, healthy, 47yrs old independent mother of two teenage sons looks like. DEAL WITH IT. (sic)'
With an age gap between them of 13 years, Melanie has always had a soft spot for a younger man, having previously been married to roofing contractor Jack Cockings - who was 16 years younger than herself.
Reports suggest that Melanie and Olly bonded over their love of fitness. A showbiz source said: "They were bonding over her fitness programme. He was a fan of her gym selfies and thought she had an amazing body. Olly was getting in shape at the time and Mel really loved his new fit bod."
They went on to explain that the showbiz pair had been texting for a while, before it became "saucy."
According to the source, their relationship has been kept under wraps for a while. They said: ""They have both been determined for nobody to find out. It's been a bit off and on and there's a real physical attraction between them."
WATCH: Olly Murs Drops His Trousers On TV!

TV presenter Melanie has always been the first to admit that she's a fan of Olly, and has posted many statuses on her social media about the pop star.
Essex born Olly, who once famously stated that he "couldn't find a girlfriend", has his last serious relationship back in 2015.