One Tree Hill Cast Reunion Shows That They All Look EXACTLY The Same!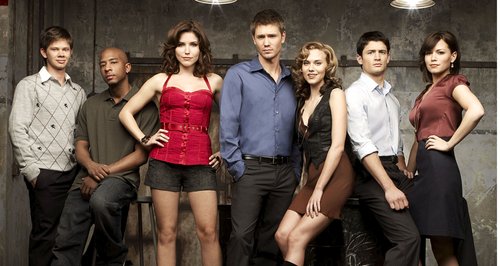 'I don't wanna be anything other than what I've been trying to be lately.'
It feels like it was an age ago when we were sitting on the sofa, an emotional wreck, binging on ice-cream yelling at the TV: "But Brooke LOVES you Lucas!"
It feels like it was such a long time ago because it was. It's been five years since we last saw the cast together on our screens - even longer if we're talking about Chad Michael Murray's departure in 2009.
There is a One Tree Hill reunion going on at this exact moment! pic.twitter.com/6BBgABYw9k

— One Tree Hill (@OTHdiary) July 23, 2016
But here's some OTH news to whet the appetite. The cast cleared their busy schedules and all made it a mini-reunion for comi-con on Saturday, where InsideOTH hosted their annual fan convention in Wilmington, North Carolina; the city where it all began.
What happens in Wilmington stays in Wilmington..... pic.twitter.com/vn9DaB1v99

— One Tree Hill (@OTHdiary) July 24, 2016
And as if it wasn't enough that Chad Michael Murray, Jamess Lafferty and Bethany Joy Lenz were there to pose for photos with fans, they also sang the show's theme song 'I Don't Want To Be' by Gavin DeGraw.
Jamie Scott (@TheRealJacksonB) whipping and doing the nae-nae on stage! #OneTreeHill #RTTH3 #TRIC pic.twitter.com/PsNpeRf6Fg

— One Tree Hill (@OTHdiary) March 13, 2016
Unfortunately, Sophia Bush - who played Brooke in the show - was not at the convention.
Sophia and Chad married in 2005 but they divorced after only five months. The couple continued to work together for another four years.
Some things never change. pic.twitter.com/BonMeeZ7gv

— One Tree Hill (@OTHdiary) July 24, 2016
Because we're feeling nostalgic, let's hear the theme tune. Just one more time.