Oscars Are Taking Drastic Measures To Avoid Another Envelope Blunder!
23 January 2018, 12:42 | Updated: 23 January 2018, 12:53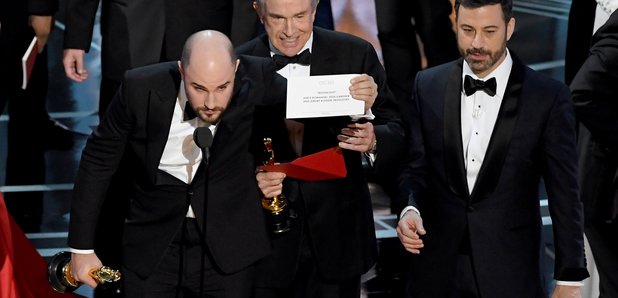 We all remember when the wrong film was read out for the Best Picture award last year...
What's the worst possible thing that could happen at an awards show?
It can only be the wrong film being sealed inside that gold envelope and at last years Oscars that nightmare became a reality.
During the award announcement for Best Picture, the biggest accolade of the night, the presenters were given an envelope which mistakenly said the winner was La La Land when it was in fact Moonlight.
The error was embarrassingly rectified on stage but the cringeworthy moment has no doubt stuck in the minds of Oscar's organisers since the gaffe.
So this year they have taken extra precautions to ensure it doesn't happen again.
Tim Ryan from PwC, the company that regulates the Oscar award announcements revealed to the Associated Press the new roles for this years Academy Awards...
The celebrity presenting the award will have to confirm they have the correct envelope and correct category before stepping out onto stage.

Previously there were only two people in charge of the envelopes back stage, this year there will be three. They will sit in the show control room, have a list of all the winners and will know them by memory too.

The three people in the know will rehearse what to do if something does go wrong again - last year it took a little while to be rectified.

The two people responsible for the envelopes last year will be replaced, but they do still work for PwC.

Those responsible for handing over results envelopes are forbidden from the use of mobile phones and social media for the duration of the show.

It sounds like they've got it covered! Lets hope things run smoothly this year.