Paddy McGuinness, 44, reveals he's been diagnosed with arthritis
13 June 2018, 07:58 | Updated: 19 October 2018, 17:33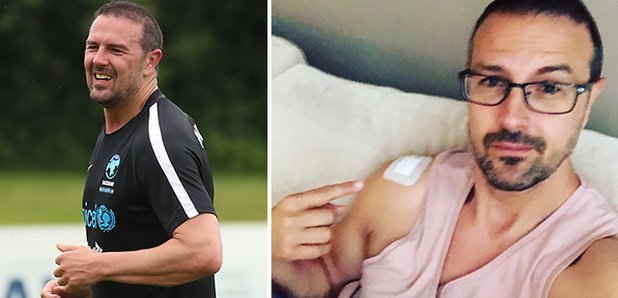 The much-loved comedian and presenter reveals he's battling arthritis in his shoulder.
The Take Me Out host posted a picture to his Instagram page, looking a little worse for wear and sporting a large plaster on his shoulder.
Paddy captioned the pictured: "Morning! Nursing a poorly shoulder today. I had an ultra sound steroid injection in it yesterday. The reason, arthritis? I'm 44!" and added the hashtags "knackered" and "shoulderfrigged."
The star was comforted by fans rushing to offer their support and love, with one writing: "Paddy I'm 42 and have had the same steroid injection in the same shoulder for the same reason. Getting old is pants...happy healing!", whilst another chose the compliment route, posting: "Still gorgeous though!"
Many were also shocked at how young Paddy was to be dealing with the chronic pain, but Arthritis UK have explained that it can affect anyone "regardless of age, gender, race, class or country."
A spokesperson for the charity explained: "We're grateful to Paddy McGuinness for speaking out and showing other young people with arthritis that they are not alone."
Paddy, who is father to autistic twins Penelope and Leo, as well as daughter Felicity, has revealed that he's in the process of creating a documentary about his life as a 'parent to austitc children.'
He explained: "I'm just working on it at the minute, I'm going to be doing a programme about it because I feel that strongly about it.
"There's this scale and it's like 'where are you on the autistic spectrum?' – they're saying that's gone now and there isn't a scale.
"But I believe there still is, because you can walk into a room with a child with autism and it can be very, very extreme, you can spot it straight away."
Meanwhile, his wife Christine has also become a spokesperson for parents facing similar challenges, and together the couple are tackling the subject openly and honestly.
WATCH! Keith and Paddy's Dirty Dancing scene is hilarious: